Dir: Shane Acker. US. 2009. 81 mins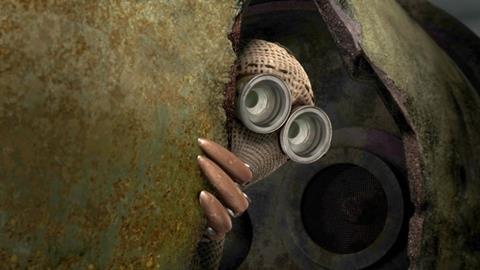 An expanded feature version of his 2005 Oscar-nominated animated short, Shane Acker's 9 is a post-apocalyptic fable notable for its visual beauty. A serious CG-animated movie with no laughs and much menace, it is classy science fiction influenced more by Jan Svankmajer and Jules Verne than Pixar or Disney. The dark stamps of producers Tim Burton and Timur Bekmambetov are written large all over it.
Plummer's wonderfully expressive timbre makes the cautious 1 the most intriguing character of all.
Backed and distributed worldwide by Focus Features, 9 will certainly find an audience, although its gloomy post-human milieu and stark battle of man and machine will scare off younger children or early teens who would unquestioningly flock to Monsters Vs Aliens. Focus will be lucky to score the same numbers as they did earlier this year for Laika Entertainment's Coraline ($75m domestic, $40m international).
The 11-minute short, with no dialogue, followed a "stitchpunk" toy-like creation called 9 in a devastated future doing battle with a mechanical monster who is sucking away the souls of his fellow digits 1-8.
Acker's feature, meanwhile, is an imaginative story in which the numbered characters speak and share a backstory as well as a future as the successors of the human race. Acker and his production designers set the story against a ruined European city, something like post-war Dresden, which lends an appropriately haunting grandeur to the proceedings.
9 (voiced by Elijah Wood) is given life in one of the only standing rooms of a shattered apartment building. He walks out past a dead man who apparently had something to do with his conception and onto the dusty streets of the city. There he comes across another similar being: 2 (Martin Landau), who saves 9 from an attack by a large mechanical canine creature but is himself carried away to a large factory on the outskirts of the city. 9 is then befriended by the one-eyed 5 (John C. Reilly) who takes him to the nearby church where the first of the creatures 1 (Christopher Plummer) rules the roost over 5, the deranged 6 (Crispin Glover) and the heavy 8 (Fred Tatasciore).
Against the wishes of 1, 9 soon heads out of the church with 5 to track down 2 at the factory, and there they meet the feisty 7 (Jennifer Connelly) who helps them battle the dog. But 9 accidentally awakens a much larger threat – an enormous mechanical monster whose raison d'etre is to suck away the souls of each of them.
At only 81 minutes, the film is thin on characterisation, and there's one action scene too many at the expense of an emotional core. But the fascinating little characters and the "steampunk" imagery [referring to an aesthetic movement which celebrates analogue machinery of the 20th century] are bewitching enough to keep audiences hooked for its short running time.
The famous actors behind the voices in the versions for English-speaking territories have very little to do – Connelly says only a handful of words – with the exception of Christopher Plummer, also in Pixar's Up cast, whose wonderfully expressive timbre makes the cautious 1 the most intriguing character of all.
To sign up for Screen's weekly Reviews Newsletter with new releases, international openings and full festival reviews delivered free to your mailbox every Friday, please click HERE

Production companies
Focus Features
Relativity Media
Twins Financing LLC

Worldwide distribution
Focus Features/FFI

Producers
Jim Lemley
Tim Burton
Timur Bekmambetov
Dana Ginsburg

Screenplay
Pamela Pettler, from a story by Shane Acker

Production designers
Robert J St Pierre
Fred Warter

Editor
Nick Kenway

Music
Danny Elfman (themes)
Deborah Lurie (score)

Main voice cast:
Elijah Wood
John C Reilly
Jennifer Connelly
Christopher Plummer
Crispin Glover
Martin Landau
Fred Tatasciore