Dir: Kat Coiro. US. 2103. 91mins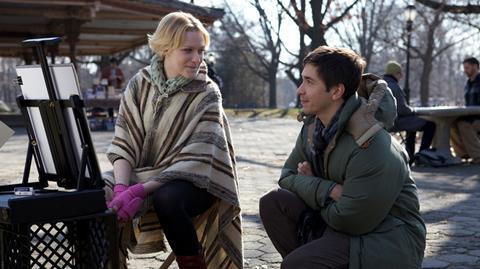 A sweet and rather familiar rom-com, A Case Of You is carried along thanks to engaging led performances from Justin Long (still trying to crack the romantic lead parts) and Evan Rachel Wood (playing the quirky New Yorker role usually reserved for Greta Gerwig), but in the end flounders rather as it tries to pack too much into its slender storyline. The film world premiered at the Tribeca Film Festival.
A Case Of You is a genial comedy that works intermittently, with the New York backdrop enjoyable and the performances all solid and committed.
Directed with a good deal of style and grace by Kat Coiro (a Tribeca Film Festival regular, who black-and-white romantic drama While We Were Here premiered at the festival last year), the film has the look and smarts (as well as a strong support cast, including Sam Rockwell, Vince Vaughn, Peter Dinklage and Brendan Fraser) to appeal to buyers who know how to handle rom-com fare, while home entertainment is also a guaranteed home.
Long – who also co-scripted with his brother Christian Long and co-star Keir O'Donnell, who plays his flatmate in the film – plays Sam a Brooklyn-based writer of books adapted from teen genre films, but who (naturally) has aspirations of his own. He has a crush on Birdie (Wood), the cute and quirky barista at his local coffee shop, but when his blundering efforts to talk to her fail, he takes to scanning her Facebook site to try and work out how he could appear to be her dream man.
Cue him learning to play the guitar and taking lessons in French cookery and judo and even claiming to be a top ballroom dancer, all to try and appeal to her. The only problem comes when Birdie starts to fall for this alter ego, and he comes to believe she likes the man he appears to be rather than the one he actually is.
The film's accessibility is that Sam's scheme rings true in this age of social networking and cyber-stalking (though the film edges away fro the creepier aspect of how he 'romances' her), and while his attempts to create a new 'Sam' – rather familiar in truth to other rom-coms – is engaging, the film is at its best when she reveals she knew what he was up to and created a few fake 'interests' (such as rock climbing) to test his resolve and amuse herself.
For Justin Long, it is a familiar mild-mannered, inoffensive and rather socially insecure man-boy character that he has played before, and while he is an engaging presence, he never really has to stretch his acting abilities.
The chemistry between Long and Evan Rachel Wood, though, is effective, and she is especially good as a sweetly goofy and warm-hearted woman, while the ensemble of cameo performers - including Peter Dinklage (as a camp barista), Sam Rockwell (an intense guitar teacher), Vince Vaughn (Sam's agent) and Brendan Fraser (Birdie's ex) help give the film a real edge.
A Case Of You is a genial comedy that works intermittently, with the New York backdrop enjoyable and the performances all solid and committed. But despite being a rom-com for its time, it also feels rather samey and old-fashioned.
Production companies: Lagniappe Films, I'm So Sorry Productions, Mega Playground
Producers: Jesse Kennedy, Justin Long, Keir O'Donnell, Holly Wiersma, Logan Levy
Executive producers: Robert Ogden Barnum, Christa Campbell, Cassian Elwes, Lati Grobman, Christian Long, Jessica Neuman, Brice Sanderford, Danny Dimbort, Christian Mercuri
Co-producer: Katie Mustard
Screenplay: Christian Long, Justin Long, Keir O'Donnell
Cinematography: Doug Chamberlian
Editors: Adam Catino, Matt Landon
Production designer: Rick Butler
Music: Mateo Messina
Main cast: Evan Rachel Wood, Justin Long, Sam Rockwell, Peter Dinklage, Busy Phillips, Brendan Fraser, Sienna Miller, Vince Vaughn, Keir O'Donnell