Australia may have scenic locations and world-class studios, infrastructure and facilities, but the exchange rate is deterring overseas shoots. Sandy George looks at what the industry is doing to end the drought.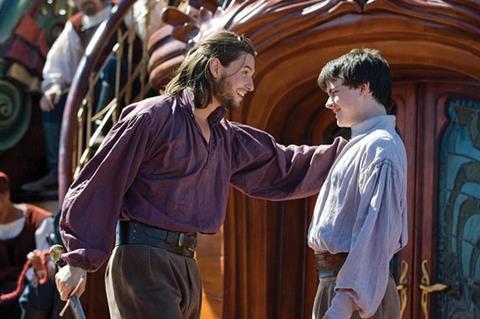 The strong Australian dollar is making it very difficult to win big-budget overseas films and the crew, cast and service companies dependent on this activity for their survival are suffering. "There are no big US films here or due to come," says Ausfilm chief executive Jackie O'Sullivan bluntly.
There were rumours that Peter Berg's action film Battleship for Universal was considering Australia, but O'Sullivan understands it is going elsewhere. Last year it initially appeared that Martin Campbell's Green Lantern would be shooting in Australia: the film opted to shoot in Louisiana in the US.
"Enquiries are down at least 50% in the Los Angeles office and our feedback is that the studios are not even budgeting for Australia unless it is for a location-specific film," says O'Sullivan. "They might want the tank up at Warner Roadshow Studios in Queensland, for example."
Incentives to shoot
A government review of the independent film industry is happening this year ― a discussion paper was released in March inviting submissions ― and Ausfilm will argue for improvements to Australia's incentive package. The marketing body has already ordered an economic impact review from business consultants PricewaterhouseCoopers.
Although the territory's generous producer offset is only available to local films, official co-productions and international joint ventures with significant Australian content, Australia does have incentives aimed at attracting foreign shoots. The location offset is a 15% rebate on what visiting producers spend in Australia to make a film, providing that expenditure adds up to $14m (A$15m) or more. If the spend is below $46m (A$50m), it must be at least 70% of the total budget ― an eligibility condition aimed at attracting as much work as possible to the country. If expenditure is more than $46m, it doesn't matter what proportion it is of the budget.
Meanwhile, the post, digital and visual effects (PDV) offset is available to projects that may have shot outside of Australia and is also worth 15% of Australian expenditure. But these incentives offer scant attraction given the current strength of the Australian dollar.
According to O'Sullivan, options to improve Australia's offer include tying the value of the incentives to the exchange rate ― although this measure could be ­politically unpalatable ― increasing the offsets, and lowering the ex­pen­diture thresholds of $4.6m (A$5m) for the PDV ­offset and $13.7m
(A$15m) for the ­location offset.
Once they get to Australia, US producers are usually won over by the ­talent base, film-making infrastructure, weather, diverse locations, culture and lifestyle, but the negative effect of the recent currency fluctuations ­illustrates the danger of relying too much on foreign production.
Looking to big-budget productions
The current drought seems more serious than the usual peaks and troughs. Many are praying that the 40% producer offset will spark a surge of productions with scale, including international joint ventures.
"Australian producers do not generally think of using studios or having a sound-stage component, but with bigger budgets they can work on a bigger page, build elaborate sets and so on," says Melbourne Central City Studios (MCCS) chief executive Rod Allan.
The Feather Men and The Eye Of The Storm are both based at MCCS at the moment, the first time two Australian features have used the studio con­currently. The Victoria government acquired ownership of the studio in November 2008 and a study is under way in order to determine its future, including its ownership. Australia's two other major complexes are Fox Studios Australia in Sydney and Warner Roadshow Studios on Queensland's Gold Coast.
Meanwhile, Australia remains ­popular with the producers of Indian films; Orange, from director Bhaskar, is being filmed in Australia over ­16 weeks.
Statistics indicate that the total spent on film was at an all-time high in the 12 months to June 30 last year, but it is not making up for the pain of the foreign film drought.
This is due to the fact that a significant proportion of the financing is going toward animation ― such as Legend Of The Guardians: The Owls Of Ga'Hoole and Happy Feet 2 ― which involves a narrower range of industries than live action.
Appeal of the post offset
While many territories have incentives for location work, a post offset like Australia's PDV is less common. Before its introduction nearly three years ago, there were no incentives for projects not filmed in Australia.
"The dollar has blown a big hole in the business, but we are doing a major sequence on [Legendary Pictures and Warner Bros'] Sucker Punch, which will employ 60 to 80 people this year," says Animal Logic's Zareh Nalbandian.
Sucker Punch director Zack Snyder is also working on Guardians, the film that fulfils Nalbandian's long-held dream of making Animal Logic a fully fledged production house.
Thanks to Harry Potter And The Half-Blood Prince and the two parts of Harry Potter And The Deathly Hallows, which are posting in part in Australia, Rising Sun Pictures remains the only company to have secured a visual effects job big enough for a PDV offset claim. ­Co-founder Tony Clark says many ­clients do not realise work can be commissioned across a number of vendors and still qualify.
Peter Weir's The Way Back is an example. It was filmed in Bulgaria, Morocco and India early last year, then lured to Sydney for post. Weir is Australian but is understood to have not used Australia for all the post on a film since Picnic At Hanging Rock in 1975.
Deluxe Australia managing director Alaric McAusland argues that, with new technology contributing to a speedy workflow, there are many opportunities to attract a range of post work on films that have no other links to the country.
It has not really happened in Australia as yet. "We have very well-resourced and highly capable post companies and because they are not operating at full capacity they are very hungry to do deals and clever producers can take advantage of that," he says.
Regions
Australia's three major regions for service productions have hosted shoots from Ghost Rider to Where The Wild Things Are
Australia's east coast hosts the lion's share of foreign productions coming to the territory, largely because of the infrastructure and personnel that exist in Sydney, ­Melbourne and Queensland's Gold Coast.
All the states offer scouting services and have incentives of ­various kinds, although they are not as generous as those offered nationally. In Queensland, for example, payroll tax rebates are available and grants are paid for employing local cast and crew and local heads of departments.
Sydney/New South Wales
The Australian film industry is ­centred on Sydney, Australia's biggest city, with its skilled crew and good facilities. One reason for shooting X-Men Origins: Wolverine there was that Sydney is home to star Hugh Jackman.
ProductionsX-Men Origins: ­Wolverine (20th Century Fox); Superman Returns (­Warner Bros).
Melbourne/Victoria
Melbourne, in the south-east corner of the country, has a more European flavour than any other part of Australia and has had a lot of success attracting offshore production especially since new studios opened in 2004. With horror thriller Don't Be Afraid Of The Dark, one of its producers, Mark Johnson, was producing The Voyage Of The Dawn Treader up north in Queensland, and the other, Guillermo del Toro, was with Peter Jackson in New Zealand planning The Hobbit, so Melbourne seemed the obvious place to shoot.
Productions Gary Winick's Charlotte's Web (Paramount Pictures); Troy Nixey's Don't Be Afraid Of The Dark (Miramax Films); Mark Steven Johnson's Ghost Rider (Columbia Pictures); Spike Jonze's Where The Wild Things Are (Warner Bros).
Gold Coast/Queensland
One of the biggest films to use Australia as a location recently was The Chronicles Of Narnia: The Voyage Of The Dawn Treader. Much of the action of the family adventure fantasy takes place on a ship, and producer Michael Johnson was won over by the tank at Warner Roadshow Studios in the south-east corner of Queensland, and also the locations on the nearby coast.
Warner Roadshow Studios helped Queensland to become the pioneer of servicing offshore production. The studio now has an outdoor tank, built for the 2008 Warner Bros film Fool's Gold. Since then Walden Media's Nim's Island has also used the tank.
ProductionsAquamarine (20th Century Fox); Michael Apted's The Chronicles Of
Narnia: The Voyage Of The Dawn Treader (Walden Media/20th Century Fox); Andy Tennant's Fool's Gold (Warner Bros); Jennifer Flackett and Mark Levin's Nim's Island (Walden Media).