Dir: Stephane Brize. France. 2012. 108mins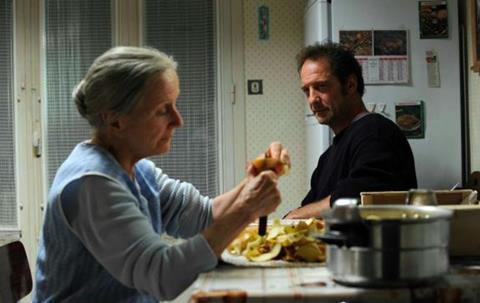 Stephane Brize takes an entirely predictable premise, moves it into uncharted waters and comes up with film, bound to ruffle quite a few moralistic feathers and touch one of the mores sensitive religious issues concerning the best way to prepare and face one's own death. The film had its world premiere at the Locarno Film Festival.
Brize's sense of pace, Antoine Heberle's unobtrusively sensitive camera and the two leading performances save the day.
Moving at a deliberately slow pace, this portrait of the antagonistic relationship, devoid of any warmth or intimacy, between an old widow (splendidly played by Helene Vincent) and her son (Vincent Lindon) who moves in with her out of necessity, may be limited to a certain extent by its downbeat subject, but will have no problem connecting with mature audiences all over the world, who will be only too painfully familiar with the film's theme.
When A Few Hours Of Spring (Quelques heures de printemps) opens with unemployed trucker Alain (Lindon), recently released from prison, going back to live with his mother, the set-up seems suspiciously easy to predict, if only because the situation has been explored before from so many different angles on screen.
When it is announced that she has a brain tumor, any doubt this film is following all traditional patterns, is dispelled. There is also a sympathetic neighbour (Olivier Perrier) who obviously has an autumnal crush on the mother and who is there to patch things up between her and her son; an abortive romance between Alain and a woman he meets in a bowling alley (Emnanuelle Seigner), which can have no future until he is willing to come to terms with his past, and finally there is a lovable dog that almost gets poisoned. Plus there is the obligatory explosion of sentiments when the son can't stand his mother's fussing anymore and tells her to her face he wishes she would die.
Lots of clichés, to be sure, but somehow, Brize manages to keep them, with one or two exceptions, on low, if sometimes smoldering, fire, as he proceeds to take his plot into an unexpected direction from the moment Alain opens his mother's medicine drawer and finds a signed contract with a Swiss association providing full euthanasia services for those who are not willing to undergo the pain, suffering and humiliation of a long-drawn death.
After that, whatever interest there might be in the other topics, the script gradually fades into the background and the preparations for the final confrontation with her self-ordained demise, done with a remarkable degree of dignity and respect for the two leading characters, is the only thing that counts. And it is done in such a neat, unforced, decorous manner, that in some quarters this might be construed as a commercial for mercy killing.
There are a few bumps along the way, whether it is the uneasy love affair which seems to be there only to underline Alain's personal problems, the premeditated poisoning of the dog, which results in mother and son putting an end to their long, belligerent separation. Or the prim, officious, almost farcical face-to-face encounter with the representatives of the Swiss association visiting their client before she embarks on her last trip.
But Brize's sense of pace, Antoine Heberle's unobtrusively sensitive camera and the two leading performances save the day. Particularly Helene Vincent, an icon of the French stage, television and to a lesser extent the movies, who manages to convey the kind of uncompromising, surly, stiff, rigidly introvert character – which by the way, she shares with her son - and to keep it under control down to the smallest details, all the way to the moving finale.
Production company: TS Productions
World Sales: Rezo Films, www.rezofilms.com
Producers: Mileno Poylo, Gilles Sacuto
Screenplay: Stephane Brize, Florence Vignon
Cinematography: Antoine Heberle
Editor: Anne Klotz
Main cast: Helene Vincent, Vincent Lindon, Emmanuelle Seigner, Olivier Perrier