Dir: Ilmar Raag. France-Estonia-Belgium. 2012. 94mins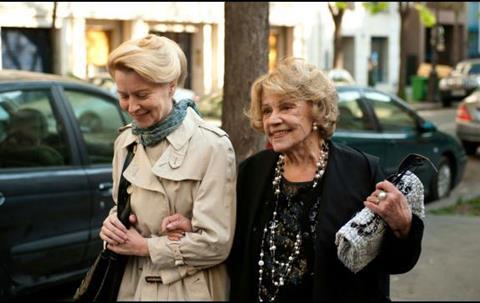 The sheer star quality of Jeanne Moreau shines through and illuminates A Lady In Paris (Une Estonienne a Paris), an elegant comedy-drama of manners and moods that could prove a tantalising draw for distributors of classy French cinema and will be an easy fit into film festivals around the world.
The film is driven by the sheer charisma of Jeanne Moreau.
This gently made film is something of a chamber piece – essentially a two-hander between screen legend Moreau and Estonian actress Laine Mägi, with a few telling interventions from Patrick Pineau – while also offering a delightful outsiders look into Paris. The film had its world premiere at the Locarno Film Festival.
While offering little new dramatically or cinematically, Ilmar Raag's film is constructed with a good deal of honest charm, and as wealthy expatriate Frida, living a solitary and lonely life in Paris, the role is perfectly crafted for the moods and mannerisms of Jeanne Moreau.
The film opens, however, in Estonia, where divorced Anne (Laine Mägi) is looking after her elderly mother. When her mother dies – and her two grown-up children rarely answer her phone calls – Anne decides to take up a work offer of looking after an elderly Estonian woman now living in Paris.
As she prepares to leave for Paris – she had studied French but never been to the city – she plays a tape of a song by Joe Dassin, bringing a delicate smile to her face and a hint of a new, fresh, life.
Met at the airport by Stephane she is taken to a plush apartment where he tells her a little about the demanding Frida. Her first encounter with Frida is a classic scene-setter, as Moreau looks at this apparently dowdy and unsophisticated Estonian woman with a haughty distain and informs her that she will not be needed.
It transpires that Stephane was once Frida's lover, and while they have both moved on, she still yearns for his attention. After some frosty moments, Frida comes to appreciate Anne's kindness and attention, and she in turn gradually helps Anne adjust to a new city, some slinkier clothes and a sense that Anne is having the chance to start her life anew.
Perhaps too dramatically safe to attract a great of critical support, the film – which probably more literally translates as 'An Estonian In Paris' – is driven by the sheer charisma of Jeanne Moreau. Gentle and simply structured it will appeal to modest mainstream – and likely older – audiences who will enjoy revelling in Moreau's pithy line-delivery and trademark withering stare.
Production companies: TS Productions, Amrion Production, uFilm & uFund
International sales: Pyramide International, www.pyramidefilms.com
Producers: Milena Poylo, Gilles Sacuto, Roona Sildos
Co-producers: Philippe Kauffmann, Adrian Politowski, Gilles Waterkeyn
Screenplay: Ilmar Raag, Agnes Geuvre, Lise Macheboeuf
Cinematography: Laurent Brunet
Editor: Anne-Laure Guegan
Music: Dez Mona
Main cast: Jeanne Moreau, Laine Mägi, Patrick Pineau