Dir: Julie Taymor. US. 2014. 144mins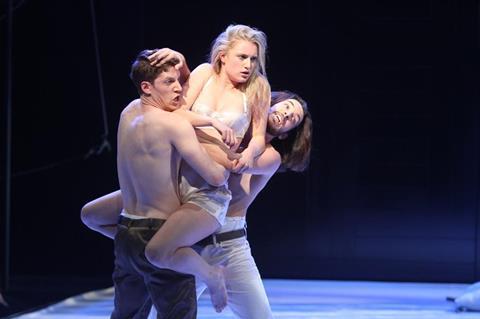 To begin with, let's make one thing perfectly clear. This is not a movie but the record of a show, a brilliantly joyous production of Shakespeare's most mischievous play, as produced by Julie Taymor at the Theatre For A New Audience in Brooklyn. Her highly acclaimed comeback after the unhappy Spider-Man: Turn Off The Dark theatre episode, blessed with all the magic and wonders that she is capable of bringing to the stage, which gathered unanimous raves at the time it opened in NY. She manages to preserve almost all its charm on screen and no theatre addict will want to miss it, not only out of interest for Taymor's interpretation of the Bard but also because it proudly displays its solid stage roots and transmits the excitement of a live show, practically intact.
With Taymor's reputation on one side, and Shakespeare's fairytale on the other, no wonder aerobatics step in from the first scene one.
The play itself is only too well known and often produced - more important is to appreciate the way Taymor, who directed also directed this filmed version of her production, went about it, capturing not only the splendidly witty performances of her cast but also the wondrous way in which the intimate space inside the new venue is used to integrate the audience sitting practically on stage into the show.
With Taymor's reputation on one side, and Shakespeare's fairytale on the other, no wonder aerobatics step in from the first scene one. But, for a change, not only they do not seem contrived because the mechanic devices are seen. They actually lend them a human dimension that is sadly missing in most of Hollywood's CGI gimmickry used nowadays at the slightest excuse. Here every stage device is shamelessly revealed, and yet, somehow, the conventions that should theoretically be accepted only on stage but rejected on the movie screen, come through without a blemish and the glorious visual effects lose none of their appeal. Turns out that allowing the viewer's mind some space for using its own imagination, can be indeed and exhilarating experience.
And then, there are the performances. As usual, Puck and Bottom are supposed to steal the show, and indeed, Kathryn Hunter and Nick Casella never miss a trick and have been adequately praised for it. But that should not detract from David Harewood's massively authoritative Oberon; from Tina Benko's incandescent Titania or from the delightfully prim Lily Englert as Hermia and the majestically imposing Okwui Okpokwasili who plays Hippolyta, the Amazon Queen defeated by Theseus (Roger Clark) with whom she is to marry the next day.
Far removed from any of the routine theatrical renditions that have been invading TV screens, Taymor used three cameramen, allowing them to go on stage during the performance, and their closeness to the performers is felt in every shot, certainly in the close-ups, none of them done with long lenses from behind the scenes or up on the second balcony. Her cinematographer Rodrigo Prieto, who worked with her film Frida, catches every shade of the stage lighting, and Elliot Goldenthal's score seamlessly works itself into the fabric of the production.
Since there is no such thing as a definitive performance of A Midsummer's Night's Dream, Shakespeare's text lending itself to endless interpretations, any comparisons would be out of place here. And equally out of place is the idea that a filmed version can match the intensity of the live experience. Anyone who attended the Taymor production on stage will probably confirm it. But for those who haven't, this is as fine a substitute as one can hope for.
Production companies: Ealing Studios, Londinium Films
Contact: Ealing Studios, www.ealingstudios.com
Producers: Lynn Hendee, Ben Latham-Jones
Cinematography: Rodrigo Prieto
Editor: Barbara Tulliver
Production designer: Es Devlin
Music: Elliot Goldenthal
Main cast: Kathryn Hunter, David Harewood, Tina Benko, Roger Clark, Okwui Okpokwasili, Lily Englert, Zach Appleman, Jale Horowitz, Mandi Masden, Max Casella, Joe Grifasi, Zachary Infante, William Youmans, Jacob Ming-Trent, Brendan Averett