Dir: Paul Negoescu. Romania. 2012. 85mins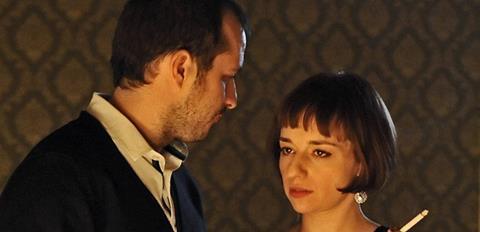 A twenty-something generation that doesn't know what it wants is laid bare with droll accuracy but also a dose of sympathy in this slow-burning romantic dramedy by young Romanian director Paul Negoescu. Following on in the new-wave Romanian tradition of stories that pan out in less than 24 hours, A Month In Thailand charts the indecisions of a young man on New Year's Eve as he dithers between his current girlfriend and the one he ditched months before.
A Month In Thailand's pleasures are in the way it doses out its ironic revelations and sidelights.
A quiet, incremental experience, A Month In Thailand builds through small perceptions rather than big revelations, and in the end it all feels just a little stretched: the same material would have played out more tightly in a sixty minute format. But this is nevertheless a likeable film that catches a certain generational zeitgeist.
The friends and couples who populate the film happen to live in Bucharest, but audiences in the 25 to 40 age bracket anywhere in the world will recognise their default lack of direction. With good audience genes, this promising feature debut could be worth a punt for adventurous arthouse distributors.
Radu (Mateiu) and his clingy, lovestruck girlfriend Adina (Anton) live in separate apartments, but otherwise their nine-month-old relationship is settling into cosy domesticity. She's even measured up his bedroom, without telling him, and bought an Ikea wardrobe so she can move her things in – one of a number of niggles that we see annoying Radu, whose mild-mannered yet egotistic character is nicely channeled in Mateiu's understated performance.
We see the couple making love and rearranging the sofa bed; we see Andrei shopping for presents in a hypermarket where he meets best friend and confidant Alex (Istodor).
Radu's inability to decide what brand of aftershave to buy for Adina's father acts as a correlative of the relationship doubts we already know he's having, and later, when he and Adina go to a New Year's party with friends, the lyrics of the songs playing on the karaoke system (including a Romanian version of Dylan's Don't Think Twice, It's Alright) comment wryly on his indecision. It's no surprise when he splits up with a tearful Adina and sets out to track down Nadia (Nicola), his previous girlfriend, who he gradually convinces himself is the woman of his life. Maybe.
A Month In Thailand's pleasures are in the way it doses out its ironic revelations and sidelights, and nails not only a certain brand of passive-aggressive male selfishness but the way little irritations can bubble under the surface in relationships. Radu's wander from nightclub to bar, as he takes leaves from and meets up with his friends, is the devalued contemporary Odyssey of an Everyman who seems destined to be buffeted from romantic pillar to post and from post to pillar – something driven home by the film's deliciously circular ending.
The film's visual style is of the standard-issue indie variety, with a few nice flourishes – like a shot of two glasses left on top of a nightclub's speakers shivering and shifting to the beat of the driving music, nestling against each other for now but without the will to resist if they are driven apart.
Production companies: Hi Film Productions
International sales: MPM Film, www.mpmfilm.com
Producer: Ada Solomon
Executive producer: Smaranda Sterian
Screenplay: Paul Negoescu, Vlad Trandafir
Cinematography: Andrei Butica
Editor: Alexandru Radu
Production designer: Iulia Negoescu Fulicea
Main cast: Andrei Mateiu, Ioana Anastasi Anton, Sinziana Nicola, Tudor Aaron Istodor, Raluca Aprodu, Victoria Raileanu