Dir-scr: Mahamat-Saleh Haroun. France-Belgium-Chad. 2010. 92mins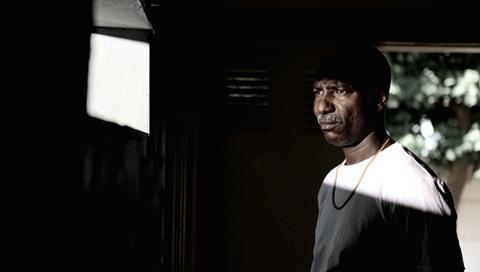 A disappointment after Dry Season, Mahamat-Saleh Haroun's latest reflection on the troubled history of his Chadian homeland unfolds a poorly developed story about a senior pool attendant's rivalry with his son and co-worker against the background of the country's ongoing civil war.
Haroun does manage to communicate the tension and grinding difficulties of life in a war-ravaged country.
Where Dry Season (Daratt) etched itself in the mind thanks to its mix of visceral drama, myth-rooted storyline and primal imagery, A Screaming Man struggles with a contrived plot that tries, but mostly fails, to resonate.
Credit must be given to Haroun for filming in such difficult conditions, and he does manage to communicate the tension and grinding difficulties of life in a war-ravaged country. But outside of the co-production territories, France and Belgium, plus festivals and specialised African cinema berths, this opaque drama is unlikely to achieve even the limited arthouse deals that Dry Season chalked up.
The story centres on Adam (Djaoro), a former swimming champion in his early sixties, who is now a pool attendant in a smart hotel in Chad's capital, N'Djamena. Adam's athletic, braided, twentysomething son Abdel (Koma) works next to his rather stiff and wiry old father at the pool, which like the hotel itself is frequented mostly by foreigners.
But some naif exposition scenes inform us that the hotel has been taken over by a Chinese owner, and soon Adam has been demoted to gatekeeper. Abdel is now the sole pool attendant; and his father stews with resentment.
There is bad blood between father and son because of the latter's promotion - but it seems little more than a tiff, nothing that prepares us for the act of betrayal the father commits when the army come around to press-gang Abdel into military service on the front line.
Perhaps this is Haroun's point - that people do odd things in wartime. UN soldiers form human pyramids in the pool, while a cordon of Chadian soldiers make sure that nobody bothers the splashing kids or their bikini-clad mothers - but these images are throwaway, never built into a coherent argument.
So by the time Adam sets out to right the wrong he's done to his son we're unconvinced either by the emotional truth of his transgression or by his subsequent remorse. And while Youssouf Djaoro's performance in the title role emanates authority, it gives us little clue as to what's going on in Adam's mind.
A final scene in an army camp where astonishingly lax security measures apply stretched credibility, though it does allow the director to set up a poetic and beautifully shot finale. There is some sort of peace after suffering achieved at the end of the film, underlined by Wasis Diop's lilting score - but it's built on shaky foundations.

Production companies: Pili Films, Goi-Goi Productions, Entre Chien et Loup
International sales: Pyramide International, (33) 1 4296 0220
Producers: Florence Stern, Diana Elbaum, Sebastien Delloye
Cinematography: Laurent Brunet
Production designe:r Ledoux Madeona
Editor: Marie-Helene Dozo
Music: Wasis Diop
Main cast Youssouf Djaoro, Diouc Koma, Emila Abossolo M'bo, Hadje Fatima N'goua, Marius Yelolo, D