Dir/scr: Ben Rivers, Ben Russell. UK. 2013. 98mins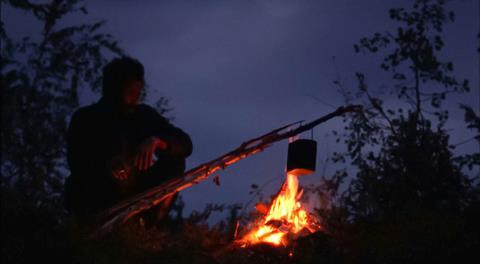 This elegantly artistic and engagingly challenging collaboration between artists Ben Rivers and Ben Russell is destined for art spaces rather than cinemas, but despite being resolutely uncommercial it will intrigue and appeal to admirers of the two Bens, and likely also feature at art-orientated film festivals.
It is a film that aims to challenge and provoke and succeeds on that score.
A Spell To Ward Off The Darkness, which premiered at the Locarno Film Festival and also screened at MoMA in New York as well as the upcoming Toronto Film Festival, where it screens in the Wavelengths section. A blend of sound and vision, shown in three distinct sections, the film is certainly a challenge to watch at times, but it is also beautiful at times and pushes boundaries in terms of its blend of music and visuals.
The coming together of British artist-filmmaker Ben Rivers (Two Years At Sea) and his American counterpart Ben Russell (Let Each One Go Where He May) was shot in an island off Estonia, and works as a triptych that links three distinct – though always vague – storylines, all of which feature (to a larger or lesser extent) American musician Robert Aiki Aubrey Lowe.
Rivers and Russell have toured an art project called We Can Not Exist In This World Alone, featuring shorts, and have also staged music/video presentations, and this feature reflects their artistic interests on a more formal level.
The first section dwells on a commune of sorts where families are building a life at one with nature (though there is also funny conversation between two men about an incident at a sauna where everyone had their finger in the backside of another person); the second follows Lowe in a solitary existence in the wilderness (gently absorbing), while in the final part – in a complete contrast to the preceding parts – he plays guitar with a screeching dark metal band in a small concert.
There are some striking moments – a long and lingering opening 360 -degree shot of a watery dusk, and the concert footage which initially jars but becomes increasingly absorbing as one realises there is a disconnect between sound and vision – but it will be a challenge for audiences who do not buy into the artistic ambition. It is a film that aims to challenge and provoke and succeeds on that score.
Production companies: Rouge International, Black Hands, Arte

International sales: Rouge International, www.rouge-international.com
Producers: Nadia Turincev, Julie Gayet

Co-producer: Indrek Kasela

Cinematography: Ben Rivers, Ben Russell

Editors: Ben Rivers, Ben Russell

Music: Queenqueg, Robert A.A. Lowe

Main cast: Robert Aiki Aubrey Lowe, Nick Turvey