Dir/scr: Bobo Jelcic. Croatia-Bosnia Herzegovina. 2013. 87mins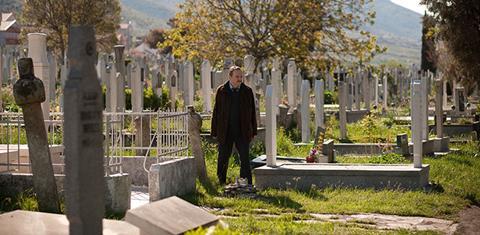 Short of being intimately familiar with the present conditions in Bosnia-Herzegovina, it seems practically impossible to follow the subtext running all through Bobo Jelcic's first film. And deprived of this subtext,
If strenuous script editing might have solved some of the plot's problems, there is very little to be done about the film's shape.
A Stranger (Obrana I zastita),which premiered at the Sarajevo Film Festival,presented as a dramatic portrait of a generation still living under the shadows of the recent past, loses most of its motivation and looks more like a tentative, uncertain portrait of a man struggling with old age who is sometimes desperate enough to flirt with the option of suicide.
A pity, since the subject itself is not given a chance to be as eloquent as it should. Shot in Jelcic's hometown, Mostar, the story of an older man, Slavko (feelingly played by veteran Bogdan Diklic), who has to decide whether he should attend the funeral of an old friend Dulaga, makes sense only if it is perfectly clear that Slavko is a Serb, living on one side of the river cutting the city in two, Dulaga was a Moslem, whose home is on the other side and that despite the official peace reigning in the country there is still much animosity between the communities, whose members rarely venture out of their own territory.
Jelcic never bothers to establish these facts and plunges ahead in Slavko's anxieties and anguish without providing sufficient foundation for them. His wife, Milena (Nada Durevska), insists they have to be there, but Slavko needs some kind of official permit to go ahead, looks for someone to give him a ride, though it is only a 15 minutes walk - any reason seems good enough for him to stay home.
When he has finally made up his mind to go, he uses only side roads to the house of the deceased, so no one would see him and later refuses to step into the car of Dulaga's daughter Zehra (Ivana Roscic) who offers to take them home, for fear his neighbors might notice and suspect he is fraternising with the "others".
Since no one seems to take Slavko's paranoia seriously and no incident erupts because of it all through the film, it is tempting to assume that all these are vagaries of a generation on its way out, but when Zehra, while taking the couple back home, drives through the Serbian half of the city which she says she hasn't seen for ages, it seems that there are still reasons for concern.
On the lighter side, Slavko's insistent attempts to reach a highly placed acquaintance of his, offers an amusing though typical portrait of the Bosnian bureaucracy at work.
If strenuous script editing might have solved some of the plot's problems, there is very little to be done about the film's shape. A modest production in every respect, shot with an unsteady handheld camera shoved almost down the throat of the leading characters, bathed in murky light, using a purposely banal dialogue that should impart to the film an everyday realistic feeling and instead sounds just repetitive, and lacking all visual perspective – no one will guess what Mostar looks like these days from this film– Jelcic relies mainly on intentions and on Diklic's performance.
Production company: Spiritus Movens Production,
International sales: Rendez-vous Pictures, p.tasca@rendezvouspictures.com
Producer: Zdenka Gold
Cinematography: Erol Zubcevic
Editor: Ivana Fumic
Production designer: Mario Ivezic
Main cast: Bogdan Diklic, Nada Durevska, Ivana Roscic, Izudin Bajrovic