Dir/scr: Jia Zhang-ke. China. 2013. 133mins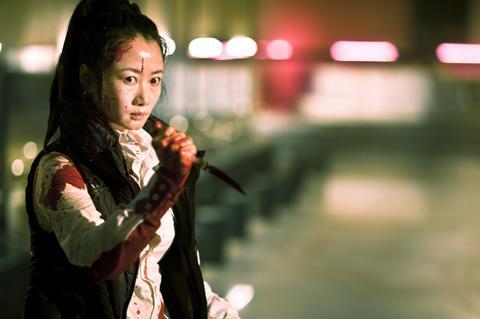 Jia Zhang-ke's A Touch Of Sin is clearly fuelled by an anger that mirrors the tone of his very first underground film, Xiao Wu. This time, however, Jia is not shooting under the radar, and he brokes no misunderstanding. A Touch Of Sin conveys a more overt contempt for China's moral bankruptcy - root and branch - that should pose problems for the director on a personal level.
Jia sees a China plagued by questions that individuals can only answer with violence.
This violent denunciation of the world's economic engine has also provoked a change of style for the Shanxi-born director, previously the darling of the more rarified end of the digital arthouse. Its seductive aesthetic – while preserving some of the director's cherished naturalism – is a riposte to the elaborate frames of Jia's Fifth Generation predecessors. Relating four true-life stories from the pages of Chinese newspapers, A Touch Of SIn is also extremely violent. It is, in essence, a vision of the underbelly of today's China which, fuelled by headlines, may attract much wider audiences for Jia overseas, even as it causes outrage at home.
Using professional actors including Jiang Wu and Wang Baoqiang, A Touch Of Sin is a larger, much more ambitious production than Jia has previously attempted (his last film at Cannes was 24 City in 2008, while Still Life won the Golden Lion in 2006. Many still remember him best however for The World, set in a Beijing amusement park). His films have always tracked his country's rapid development, always with a critical eye. But this, in particular, is a bristling film; with anger, colours, affluence, landscapes which jut into the frame, both natural and man-made.
It's also a road movie in the tradition of the wuxia genre, a homage paid in the title (to King Hu's A Touch Of Zen). Migrants jostle from province to province. Private planes, high-speed trains, fancy Western cars and primitive motorbikes share the roads with the Chinese zodiac symbols of a tiger, oxen, a horse, a snake (directed by Tsui Hark, according to the credits), reminding us that the struggle is an enduring – if not eternal - one. Chinese opera singers cry: "Do you understand your sin?"
Jia relates four stories in the film, which track southwards through China, starting in the agricultural province of Shanxi and ultimately reaching Dongguan, a town in Guangong province. In Shanxi, a statue of Mao looks over the town square in where Dahai (Jiang Wu) bridles at the death of collectivism and the riches of the town's mayor who has profited by the sale of the coalmine. Down south, in Guangdong, where prostitutes dance in skimpy PLA uniforms and thigh-high boots to patriotic songs, such ideas might even seem quaint.
Jia sees a China plagued by questions that individuals can only answer with violence. These also include a violent migrant worker with a gun who visits home over Chinese New Year, a receptionist at a sauna who is assaulted by a rich client; and a young factory worker moving from job to job in Guangdong. In the film's press notes, Jia says all these stories are well-known at home in China. By adding them together, he assembles a force with which he repeatedly assails the viewer.
Jia works again with his regular Hong Kong cinematographer Yu Lick-wai who rises to the challenge of the director's ambition from the very first frames – of vibrant green palm fronts, an over-turned truck filled with tomatoes, and a mysterious explosion. The colours pop and the artifice works side by side with the naturalism. Even as the repetitive messages of violence and dislocation come to lose some of their effect by the final frames, Jia's outrage is the diving force that he musters to deliver a significant change in direction.
Production companies: XStream Pictures, Office Kitano, Shanghai Film Group Corporation.
International sales: MK2, www.mk2.com
Producer: Shozo Ichiyama
Executive producer: Jia Zhang-ke
Cinematography Yu Lik-wai
Music: Lim Giong
Main cast: Zhao Tao, Jiang Wi, Wang Baoqiang, Luo Lanshan