Directors Stephane Aubier, Vincent Patar. Belgium. 2009. 75 mins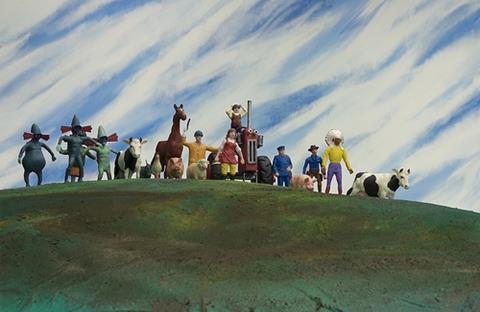 And now for something completely different. A blast of freewheeling inventiveness, A Town Called Panic is the feature version of the widely screened television series from Belgian animation duo Aubier and Patar. Imagine the Toy Story franchise infused with the mischievous sensibility of South Park and crafted in meticulous stop-motion animation and you begin to get the measure of a film that seems tailor-made for cult status.
Defining the potential audience will be the challenge for any distributor. Many adults will find that a little of Panic goes a long way whilst it may be too offbeat for children more accustomed to Pixar fare or the cosy antics of animation stalwarts Wallace and Gromit. On the other hand children seem happily attached to SpongeBob SquarePants so the world of Panic may not be too much of a stretch.
The 2003 television series ran to 20 short episodes. Aubier and Patar attempt in the feature version to sustain their bubbling invention over a much longer running-time and largely succeed without recourse to a conventional narrative. Panic remains a cardboard rural world in which anything can and does happen.
Using generic plastic toys as the basis of their characters, the duo create a string of incidents around the lives of Cowboy (voiced by Stephane Aubier), Indian (Bruce Ellison) and Horse (Vincent Patar) who all live together beside Steven the farmer (Benoit Poelvoorde) and his wife Jeanine (Veronique Dumont). Cowboy and Indian decide to celebrate Horse's birthday by building him a barbecue but a mistaken internet order for 50 million bricks rather than 50 begins a surreal adventure that takes them from the centre of the earth to a parallel underwater world where they do battle with pointy-headed creatures and barracudas.
Panichas all the make- believe and absence of logic found in the games one played as a child. The humour lies in the human emotions given to these plastic toys with Horse turning all shy and bashful when confronted by attractive music teacher and mare Madame Longray (Jeanne Balibar). Longray has a foxy orange mane and Horse signs up for piano lessons just to win her heart. It is surprising just how expressive the plastic toys become.
Then there are the voices that Aubier and Patar describe "as if their very air contains both amphetamines and laughing gas". Aubier's Cowboy is more reminiscent of the late Michel Serrault at his most camply hysterical in La Cage Aux Folles.
Panicbelongs to a long tradition of inspired silliness that stretches from Lewis Carroll to the Goons and Monty Python. There are echoes too of the eccentricity in Sylvain Chomet's BellevilleRendez-Vous. Panic is less consistent than any of these comparisons and unrelentingly manic in a way that eventually becomes tiresome. The screen is filled with Heath Robinson-style contraptions, fireworks, a rock'n'roll number, cows parachuting in the sky, giant snowballs and towers of bricks but there is still a point at which even the most charmed viewer will decide that you can have too much of a good thing.
Production Companies
La Parti Productions
Made In Productions
Melusine Productions
Beast Productions
Gebeka Films
Les Films du Grognon
RTBF
International sales
The Coproduction Office
(33) 1 56 02 6000
Producers
Philippe Kauffmann
Vincent Tavier
Screenplay
Stephan Aubier
Vincent Patar
Vincent Tavier
Guillaume Malandrin
Cinematography
Jan Vandenbussche
Editor
Anne-Laure Guegan
Main voice cast
Stephane Aubier
Jeanne Balibar
Bruce Ellison
Benoit Poelvoorde
Veronique Dumont
Vincent Patar
Nicolas Buysse
Franciois De Brigode