Dir: Nicole Garcia. France. 2010. 109mins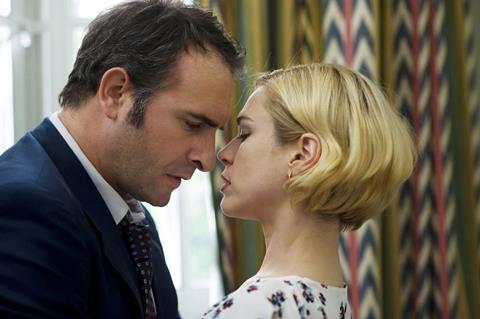 A slow-burn real estate thriller with a resonant historical and political subtext, A View of Love boasts pleasing intricacy and adult themes en route to a slightly abrupt conclusion. Versatile Jean Dujardin stars as Marc, a realtor who, in 1987 in the South of France, runs into the girl, now grown, he loved as a boy in Oran before French residents fled for their lives at Algerian independence in 1962.Troubling and involving tale wears its cinematic influences lightly although hints of Vertigo will be a plus in Europe.
Garcia elicits fine dramatic performances from Dujardin and from Croze, whose appearance here seems modelled on Sharon Stone, circa Basic Instinct.
Because it's taken as a given that viewers understand the context, the film's structure may prove confusing to those unfamiliar with the complex fallout from the Franco-Algerian conflict, including the harrowing conditions under which a great many people were forced to leave Algeria in the early 1960s. But the romantic intrigue, peppered with tantalising clues and mysterious behaviour, provides a narrative roadmap worth following.
Gracious and dependable Marc has a wife (Kiberlain, with little to do) and 11 year-old daughter and works for his father-in-law's (Aumont) agency handling upscale properties. Something about the attractive, no-nonsense blonde examining a lavish estate on behalf of a prospective buyer, rings a bell.
Marc confronts the woman (Croze) at her hotel and, in an emotional exchange, they establish that they grew up together on the same street in Oran. Propelled by rekindled and irresistible attraction, they consummate the stirrings they first experienced as adolescents. She's a widow, but that's about all the personal info he can get out of her.
She's as secretive as she is alternately bold and skittish in the weeks leading up to the property sale. Marc's suppressed Algerian years, depicted in touching and violent flashbacks, resurface with a vengeance.
Marc is deeply troubled by reconnecting with his first love 25 years after the fact. When his mother (Cardinale in an effective cameo) tells him she's certain his boyhood girlfriend was killed in a terrorist attack in Oran not long after they fled to France, Marc is thrown into intense disarray. The carnal connection is real and she's no ghost. What gives?
Actress-turned-director Nicole Garcia - who spent her girlhood in Algeria and has made a series of films about the inner workings of identity and the obstacles men face in connecting with their feelings - imparts a rich sense of time and place. Garcia elicits fine dramatic performances from Dujardin and from Croze, whose appearance here seems modelled on Sharon Stone, circa Basic Instinct - strangely fitting for the tactical manoeuvring the role requires.
Toni Servillo adds considerable flavour as an Italian realtor partnered on the impending deal.
Production design evoking the late '80s in France is well-observed and a world not yet overrun with cell phones and computers offers opportunities for suspense that have fallen by the wayside in the subsequent era of networking overkill.
Production companies: EuropaCorp, Les Productions du Tresor, France 3 Cinema, Pauline's Angel International sales: EuropaCorp, www.europacorp.com
Producer: Alain Attal
Screenplay: Jacques Fieschi, Nicole Garcia
Cinematography: Jean-Marc Fabre
Production designer: Veronique Barneous
Editors: Françoise Bonnot, Emmanuelle Castro
Music: Stephen Warbeck
Main cast: Jean Dujardin, Marie-Josée Croze, Toni Servillo, Sandrine Kiberlain, Michel Aumont, Jacques Valles, Claudia Cardinale