UTV Motion Pictures' blockbuster PK, starring Aamir Khan, is heading for distribution in mainland China, where China Film Group and Huaxia will release it on 3,500 screens.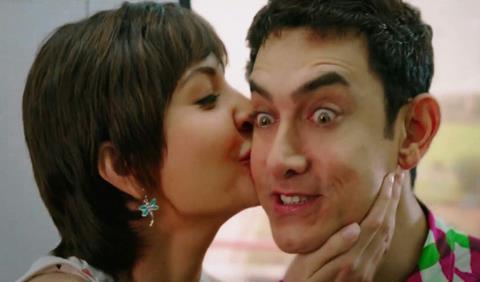 The deal was signed at a ceremony in Beijing attended by India's ambassador to China, Ashok Kantha; SAPPRFT vice minister Tong Gang; China Film, Huaxia and UTV execs; and the film's director Rajkumar Hirani and producer Vidhu Vinod Chopra.
Since its release on December 19, the film has become the highest-grossing local film ever in India and the highest-grossing Indian film globally.
"This direct collaboration with China Film Group and Huaxia Film Group for PK is a proud moment not just for us at the studio but also for the Indian movie industry as a whole," said Amrita Pandey, vice president and head, marketing and distribution, Disney India.
The film deals with religious themes, usually a no-go in China, but it satirises religious dogma, which may have made it more acceptable to Chinese censors.
It also reunites the team behind 3 Idiots – actor Khan, director Hirani and producer Chopra – which was one of few Indian films to perform successfully in China, Hong Kong and other East Asian markets in recent years.
It wasn't announced whether the film would be released on a revenue-sharing or flat fee basis. But the participation of both China Film and Huaxia, the two companies licensed to release foreign films in China, suggests that it has a good chance of receiving one of China's 34 annual revenue-sharing slots.
The Chinese and Indian film industries have recently been paying more attention to each other, following the signing of an official co-production treaty last year.
"I am confident that the film's blend of entertainment, emotion and underlying social message will resonate with audiences in China and elsewhere in the world. I am also pleased that PK will build on the success of 3 Idiots and expand the China market for Indian films in the future," said Chopra