Dir/scr: Marco Berger. Argentina. 2011. 90mins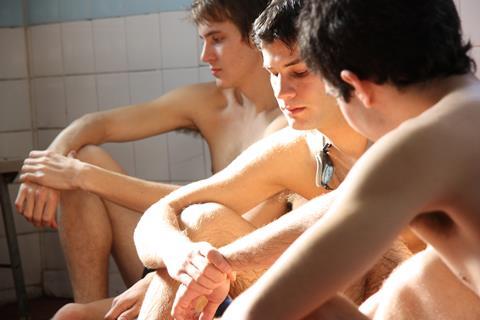 A same-sex attraction between a swimming teacher and one of his adolescent charges is turned into an initially compelling forbidden relationship thriller in young Argentinean director Marco Berger's second feature Absent (Ausente). The film goes off the boil in its stretched second half, and is a little too in love with its quirky soundtrack and odd sound design, full of muffled passages of dialogue and buzzing undertones, but this is still an impressive example of directorial control on a shoestring budget from a New Argentinean auteur to watch.

The tension is well managed by Berger.
Despite the theme and the way the camera voyeuristically caresses the young male body this is by no means a GLBT niche product - though it will inevitably travel on the gay and lesbian festival circuit after its Berlin Forum debut. However, though it could theoretically score some arthouse action, the film's lack of plot development and slightly downbeat, airless view of desire is unlikely to turn on many distributors outside of its home territory.

Perhaps the film's greatest achievement is in the writing and casting of the two leads and the always authentic performances of the actors chosen to play them - Carlos Echevarria as Sebastian, the gym and swimming teacher who is clearly keeping a tight lid on his attraction for his young male students, and Javier de Pietro as Martin, the outwardly shy but inwardly self-assured 16 year-old who actively pursues the older man.

The first fifty minutes almost constitute a film in themselves. It's played almost in real time, as we see Martin checking out Sebastian in the locker room, and feigning an eye injury so he can have the teacher ferry him to the hospital for a check-up (eyes are a recurring theme: glances are exchanged, but rarely meet, and the eyes of others - judging or mocking, perhaps - torture Sebastian in the film's second half).
The tension is well managed by Berger, as Martin first lies about living with his grandmother, who is conveniently out because he was supposed to spend the night with a friend, who he can't contact… and in the end Sebastian offers to put Martin up in his own apartment, just for one night. It's a surprise to discover that Sebastian has a girlfriend, Mariana (Costa) - but none to discover that she's not around.

The dramatic motor here is the fact that we ourselves don't know quite what the troubled Sebastian's intentions are: does he see through Martin's lies as easily as we do? Or does he choose to take the boy's lame story at face value because he too is willing something to happen, against his own best instincts?

There's a pressure drop after this tense first half, as Sebastian returns to work and Marianna, and the consequences of that night begin to unspool. It doesn't help either that Berger has too many stylistic quirks: obtrusive views through mirrors of people reading books with back-to-front titles; a soundscape that alternates wind-tunnel booms and rushes with muffled underwater-style dialogue; and a musical soundtrack that sometimes seems portentous merely for the sake of it. But he has a real feel for cutting, setting up an uneasy rhythm of closed and open spaces, of light and dark scenes, that underscores the instability and strangeness of a world transformed by suppressed desire.


Production companies: Oh My Gomez!
International sales: Rendez-vous Pictures,, www.rendezvouspictures.com
Producer: Mariano Contreras
Cinematography: Tomas Silva
Editor: Marco Berger
Music: Pedro Irusta
Main cast: Carlos Echevarria, Javier de Pietro, Antonella Costa, Rocio Pavon, Alejandro Barbera