Bill Gates discusses the media's role in eradicating poverty and disease, Microsoft as a platform for the creation and distribution of filmed entertainment, his "friend" and "competitor" Steve Jobs, and says he won't be running for president any time soon.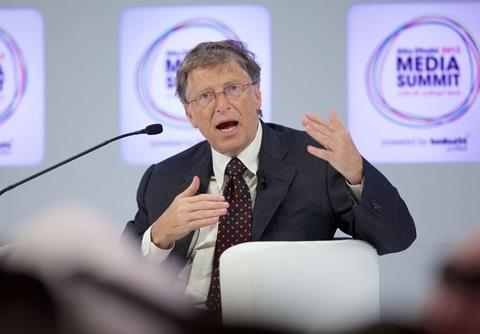 A day after the Bill and Melinda Gates Foundation and the Islamic Development Bank signed a five-year deal to combat disease and famine in low-income countries, Microsoft founder Bill Gates has urged the global media to "become the conscience of the world," by "showing how bad things can get and how good things can be".
Speaking at the third Abu Dhabi Media Summit, Gates said the global media could play a larger role in highlighting humanitarian plight and possible solutions to that plight: "The world has not yet fully tapped the power of the media as a force for good," he said.
"In fact, I think 'media' is too passive a word to capture the dynamic role it can play. The media is really a voice. And if it raises its voice – to show how bad things can get and how good they can be – the media can become the conscience of the world."
Gates called the Gulf region a "home to deep innovators in the field of media" and said it was thus well-placed to improve the lives of those most in need: "The media here reach the wealthy, who should know about the lives of the poorest. And the media also reach the poorest, who should know about the threat of disease and the power of vaccines."
Innovation
Gates praised the region's commitment to technological and scientific innovation [and its philanthropy] and urged it to channel its work in these fields towards humanitarian good: "As you deepen your research into technology I want to exhort you to do something that the West has largely neglected to do for a very long time.
"For too long, the West worked almost exclusively to develop and apply technology to meet the needs of the rich world, only for those who could pay. As you grow into a world hub for research, I hope you constantly search for ways to apply technology to help people who can't pay."
Gates' keynote speech focused on the importance of eradicating communicable diseases and poverty and the role of local and global philanthropy and media in doing so, but during a short audience Q&A session the icon also touched on Microsoft's film-related activities, Steve Jobs, Windows 8 and new media developments.
Microsoft and film
In light of Microsoft's recent work on a Halo feature film, which it will release on YouTube in November, and the software giant's development of a 13-part drama series, Screen asked Gates what role a software company like Microsoft can play in the production of filmed entertainment.
He said: "I think in terms of film as we think about it today, a company like Microsoft is mainly an enabler, making sure that internet connected devices are available for the consumption of film, for example."
"I don't think Microsoft itself brings enough to get involved in that area in a deep way", he continued. "We're more of a platform for the creation and distribution of material… Microsoft will be a tool and a significant creator of the most interactive content - like Halo, for example - which has a strong software component."
Windows 8 and Steve Jobs
Ahead of the anticipated launch of Windows 8, Gates said the new software would "combine the best of the tablet with that of the PC."
He described Steve Jobs as "a friend, a competitor and many other things" and praised his work as an "amazing achievement".
Traditional v new media
Gates advised the head of an Arab news channel who asked him for business advice on how much money to devote to traditional platforms and to new media, to spend "70% on TV and 30% on new media".
"Over time the values might shift," Gates said. But for now, "the broadest footprint is still broadcast TV. The internet is much more sophisticated than it used to be. But we still need to reduce the costs in monthly internet connections and the cost of devices."
President Gates
In response to one attendee's question as to whether Gates would run for president of the US (which drew a round of applause), he said: "I'd never choose to run for political office."
He added: "I think, but perhaps I'm wrong, that I can have as much impact in my role as chair of the Bill and Melinda Gates Foundation as I can in a political role…I'd give advice to the president just like I do to Microsoft."