Screen International brings you three of the directors of this year's Oscar-nominated animation films.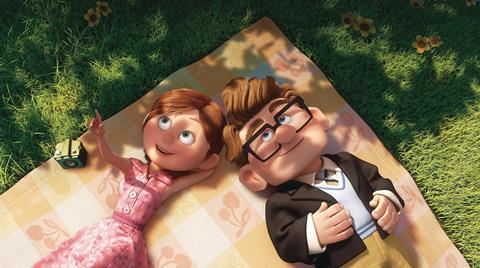 Pete Docter, director, Up
'We wanted him to go on an adventure so he'd have to use his cane and false teeth in a fight'
After directing Monsters, Inc for Pixar, Pete Docter got together with Bob Peterson, who would eventually serve as his co-director on Up.

"We wanted to tell a story with great humour potential; a unique story with an old man as the protagonist," Docter says. "We wanted to send him on an adventure so he would have to use his cane and false teeth in a fight.

"As we talked, we realised the story was also about wanting to escape the world, so we put the elements together and came up with the idea of this old man floating away in his house, and then we worked backwards and asked why would he do that. Then we came up with the idea of his wife." It took Docter, a clean-cut beanpole of a man who exudes a puppy-like energy, and his team of animators six years to make Up, but it was worth it.

The box office doesn't lie, and as of early November Pixar's grumpy widower Carl, his puppy-like boy scout pal Russell and those kaleidoscopic helium balloons had amassed more than $643m worldwide through Disney.

They spent three years thrashing out the story, and it took time to work out how Carl, voiced by Ed Asner, would encounter the mythical Charles Muntz, voiced by Christopher Plummer. "We wrote no fewer than 50 versions of how they meet." Docter and his team of animators worked day and night to create the visual landscapes that would enchant millions. "We draw what is like a comic book of the film and basically approximate what it will be like on film.

"Sometimes ideas in the art are seductive in ways that don't serve the story, but we have all these checkpoints. We screen [the work-in-progress] to all the other directors at the studio.

"There's a very brutal reckoning. But that's a good thing. I don't ever want to trust success. I don't want to have any privileges and rights from the past."

By Jeremy Kay

'Maybe it feels like my film because my idea of Dahl is different to everyone else's'
Wes Anderson has been dreaming of making a movie of Fantastic Mr Fox for more than a decade, and first had lunch with Roald Dahl's widow Felicity to discuss it in New York in 2000. "I remember it specifically because during that lunch I got a call confirming that I got the greenlight for The Royal Tenenbaums," he says.
"We raised the money during our lunch." Although he was no expert in animation, Anderson wanted to film using stop-motion techniques from the start, specifically inspired by Aardman Animations' Creature Comforts shorts.

The resulting production cost about $40m, cheap in comparison to the $100m-plus budgets of tent-pole Pixar or DreamWorks CG pictures. 20th Century Fox brought in New Regency to co-finance, and the film was ultimately moved from big Fox to Fox Searchlight for distribution in the US.

"I think it ended up at Searchlight because it is stop-motion," he says.

The laborious process of animation itself was an eye-opener to Anderson, who says he had to educate himself as to the technique throughout the production. Director of photography Tristan Oliver was recently quoted bad mouthing Anderson and saying he directed the film via email from Paris, although Anderson says the quotes were used months after the two had resolved their differences. "We had been through some friction but that was all over," says Anderson of his DoP.

"The story stirred up some trouble. It was bad for him, bad for me and a terrible way for the film to be introduced to America." But the storm quickly blew over in a wave of positive response when the film had its world premiere at the opening night of the London Film Festival.

While the film is respectful of Dahl's original children's classic and fully endorsed by Felicity Dahl, the final sensibility is distinctively Anderson; there are several invented characters such as the docile sidekick Kylie, an opossum. "He was based on a handyman called Kylie, who was living in my New York apartment when I bought it from the painter Larry Rivers," smiles Anderson.

"After I bought it, he continued to live there while the place was gutted, but eventually I had to ask him to move out." "I love Dahl and I am influenced by him," he says, "but maybe it feels like my film because my idea of Dahl is different to everyone else's."
By Mike Goodridge
'We had an emergency meeting when the look of the film started to resemble a train set'
It seems only right that Henry Selick and Neil Gaiman, two dark masters of modern fantasy storytelling, should finally collaborate.

The tale of Coraline provided the opportunity, although Selick didn't know Gaiman when, back in 2000, the British writer sent him his book about the plucky girl who straddles alternate realities.

"I responded to the book and responded to Neil," says Selick, whose wide-eyed expression makes it look as if working on this and perennial favourite The Nightmare Before Christmas have left him permanently scarred.

"In adapting you have to rip up the source and put it back together, but when you are done it still has to feel like the book.

"We had to change the structure [Selick created Coraline's friend Wybie Lovat for the film]. It's faithful in tone and main story points." It took about three-and-a-half years to make the 3D hit which, as of early November had grossed more than $124m worldwide. "We ended up with 30 animators and had 20 Coraline puppets, because she was in every scene.

"The best week we had with all the animators produced two minutes of film. It took a long time to get the right look. We had an emergency meeting when it started to resemble a train set ­ highly detailed but not artistic. We had to experiment with materials and start over.

"I wanted a lot of things on the set to transmit light and not be static, so we worked with plastics and vinyls to add that luminosity." The primary objective was
to make the real world seem confined, so the sets had very little depth and there was no freedom. In the other world I built very deep space."

Incredibly, there is hardly any CGI in the film. The peeling wallpaper and the scenes where the fabric of the world rips apart were hand-animated.

By Mike Goodridge