Dir: Robert Greene. US. 2014. 87mins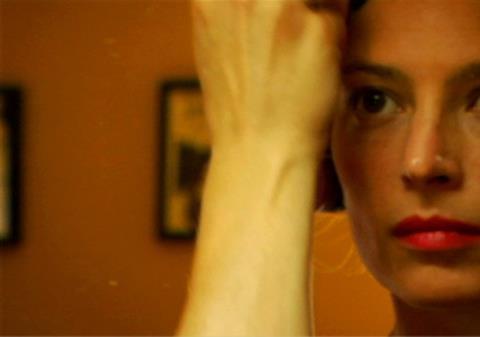 What begins as a compassionate look at a woman balancing career and motherhood soon evolves into something far more nuanced, thoughtful and troubling in Actress, an immersive investigation into the ways in which we're all playing different roles in our lives. Director Robert Greene (who also served as cinematographer and editor) has made a documentary about his friend and neighbour Brandy Burre, an actress whose greatest claim to fame was a 15-episode stint on the acclaimed series The Wire. But his clear sympathy for his subject doesn't keep him from asking difficult questions about the mistakes she's made and her uncertain future.
Actress transcends any academic discussion about gender roles or ageism, becoming an engrossing study of Burre's life as it goes through a slow-motion free fall.
Premiering at the True/False Film Festival, Actress could potentially entice star-struck viewers interested in celebrity culture and the life of an actor. But Greene's intelligent, contemplative approach deemphasises glamour to focus on Burre's warring impulses as she tries to carve out time for family, her craft and her relationship. Strong reviews should guarantee a healthy festival life before a presumably modest theatrical run.
Shot over the span of about 18 months, Actress finds Greene (Fake It So Real, Kati With An I) following Burre as she's about to embark on a new chapter in her life. After enjoying success as a recurring character in The Wire, she decided to give up acting to have a family with her boyfriend Tim. (As she tells the camera, she got pregnant with their first child when they'd been dating for only three months.) Now with two young children and drifting along in a relationship she sees as unfulfilling, Burre wants to get back into acting. But because she's in her late 30s, she faces obstacles both internal (she's an "aging" actress by industry standards) and internal (after years of being a mother, she doesn't feel confident or spry like she used to).
At first, Actress appears to be a familiar, albeit affecting rumination on the difficulties women face: Do they choose a family or a career? (And why must they have to choose?) Additionally, Greene seems to be pointing out how unfair it is that actresses "of a certain age" quickly become undesirable, whereas their male counterparts can continue to be cast as they get older.
But subtly, this documentary's fly-on-the-wall technique begins to make note of a surprising change in Burre's life. At first, the revelation — which shouldn't be spoiled — comes across so casually that the viewer might be tempted to believe he's misunderstood what he's seen. But eventually, the incident creates havoc for Burre's relationship with Tim, throwing their brittle family life into even more fragile terrain.
From that moment on, Actress transcends any academic discussion about gender roles or ageism, becoming an engrossing study of Burre's life as it goes through a slow-motion free fall. And yet, Greene doesn't try to overstate his subject's woes. There's a refreshingly measured attitude throughout Actress that suggests that while Burre is going through a bit of a crisis, her problems aren't somehow harsher or more meaningful than anyone else's. That approach doesn't diminish her plight but, rather, puts it in the proper perspective — Greene is using Burre's woes as a universal metaphor for how most adults think they can have everything in life, a stance that ultimately requires some desires to be sacrificed along the way.
It's not meant to be snide to say that Burre gives a deeply felt performance. Though Burre is not "acting" in the traditional sense, the close rapport she develops with Greene's camera — he rides along with her in the car or hangs out at her home, recording her occasional asides to him — is a portrayal of a kind. But she's not being disingenuous; instead, she's trying to be forthright in the moment, allowing thoughts and emotions, anxieties and insecurities to flow as freely as possible.
Actress does a remarkable job capturing offhand, telling exchanges between Burre, Tim and their children — this is cinema verité with exceptional patience and good instincts — and as a consequence, its more impressionistic or heightened moments are quite striking in contrast. Because Greene isn't judgemental about this woman who has stumbled into a personal crossroads of her own making, Actress leaves us supremely unsure if she'll be able to rehabilitate any of the floundering aspects of her life. She's trying to be an actress, but she's also trying to be a mother and a daughter and a lover and a friend. It's a juggling act with which anyone in the audience can identify.
Production companies: 4th Row Films, Prewar Cinema
International sales: Susan Bedusa, 212.974.0082
Producers: Douglas Tirola, Susan Bedusa, Robert Greene
Cinematography: Robert Greene
Editor: Robert Greene
Website: www.actressfilm.com