Dir: Abdellatif Kechiche. France-Belgium-Spain 2013. 179mins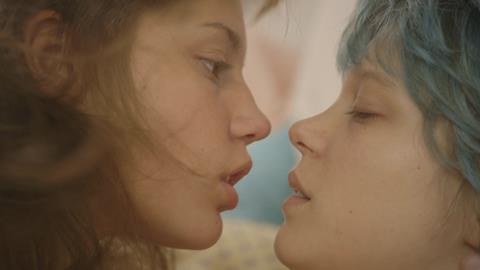 Director Abdellatif Kechiche is a past master of expansiveness, known for stretching his running times - notably in L'Esquive and The Secret Of The Grain - to allow his dramas the maximum breathing space. The technique again pays terrific dividends in Adele: Chapters 1 & 2 (which screened in Cannes with the title Blue Is The Warmest Colour), his return to the present after the period digression of 2009's Black Venus. Kechiche hits emotional paydirt with a story spanning several years of the early adult life of a young woman, focusing on a passionate lesbian romance. A coy coming-out drama this most definitely isn't.
The performances are terrific, all the more so because the film contrives to give the impression that it's delivering a close approximation of undiluted reality.
Built around two astonishing lead performances, the film breaks new ground in the uninhibited depiction of lesbian sex. But the bedroom scenes are to be taken in the context of an emotionally and psychologically rich drama that touches more nerves, more satisfyingly, than most realist narrative manages.
The ostensibly daunting length may worry distributors, but audiences will feel that hardly a moment is wasted. Festivals will go wild, but expect mixed responses at LGBT events where such an explicit lesbian film from a male director will surely prove controversial.
The drama, based on Julie Maroh's graphic novel and set in Lille in Northern France, begins with heroine Adèle aged 15. We first see her in a classroom (echoes of both L'Esquive and Laurent Cantet's The Class) where she and her schoolmates are studying Marivaux's text La Vie de Marianne and mulling over the philosophy of emotions. Adèle embarks on a tentative romance with admirer Thomas (Laheurte), but finds herself distracted by fantasies about Emma (Seydoux), an older girl with blue-dyed hair she's glimpsed in the street.
The two women later meet when Adèle nervously pays a visit to a gay club, and they spark romantically. This causes one of the few scenes in which lesbianism is itself a cause of conflict, as Adèle's schoolfriends react with hostility to the thought that she might be gay.
Otherwise, lesbianism quickly becomes an unproblematic given in the film, and in Adèle's life. She and Emma become passionate lovers, and the film gives us several no-holds-barred sex scenes in which there's no doubt about the strength of their mutual desire. Adèle moves in with Emma, becoming a muse for her art, while she herself, now an adult, becomes a nursery school, then a primary school teacher. When the relationship founders, Adèle must face life without the woman who's been so important in helping her become herself.
The film will be most controversial, and perhaps most acclaimed, for the boldness of its sexual context. The love scenes are strikingly fresh in the context of mainstream cinema, not just for their uninhibited intensity, but in the fact that they're about female pleasure presented in a direct, non-mystificatory way.
While lesbian scenes in French cinema have often been treated voyeuristically or presented as transgressive or quasi-mystical - notably in the films of Jean-Claude Brisseau - Kechiche presents the two women's rather athletic tussles as intensely tender encounters between two living bodies, photographed in an unintrusive, non-objectifying manner. The two actresses are fearless in evoking physical passion, just as intrepid in the emotional intensity they drum up together.
Adèle's lesbian identity is largely one unproblematic element in the more fundamentally complex business of her growing up. The film never makes an issue about her reluctance to come out to her parents (Aurélien Recoing, Catherine Salée) while one of the key problems in her relationship with Emma is her feeling of inadequacy around her confident, literate lover's arty friends.
The performances are terrific, all the more so because the film contrives to give the impression that it's delivering a close approximation of undiluted reality. Seydoux is known as a versatile performer, but she reaches new levels of sensitivity and intensity in seemingly telepathic rapport with near-newcomer Exarchopoulos, who's previously worked with Jane Birkin among others.
The latter jumps whole-heartedly into her most significant role yet, exposing herself physically and emotionally, and indeed often both - in some scenes, with tears and snot streaming, but never remotely histrionic. What you get in these performances is intelligence, emotion and physicality, and when they come together as combustively as they do here, what you get is something extremely rare - a film that catches the messy, hot complexity of life and love.
Production companies: Alcatraz Films, Wild Bunch SA, Quat' Sous Films, Scope Pictures, Vertigo Films, France 2 Cinéma
International sales: Wild Bunch, www.wildbunch.biz
Producers: Olivier Thery Lapiney, Laurence Clerc
Screenplay: Abdellatif Kechiche, Ghalya Lacroix, inspired by the comic book by Julie Maroh
Cinematography: Sofian El Fani
Editors: Camille Toubkis, Albertine Lastera, Jean-Marie Lengelle, Ghalya Lacroix
Main cast: Léa Seydoux, Adèle Exarchopoulos, Salim Kechiouche, Jérémie Laheurte, Aurélien Recoing