Dir: Agnes Kocsis. Hun-Neth-Aust-Fra. 2010. 136mins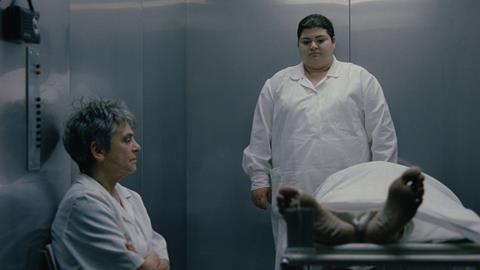 The concept of childhood, according to the late French historian Philippe Aries in his seminal study, Centuries of Childhood, did not exist prior to the Middle Ages, and once in did, it was strictly for the upper classes until the 1900s. Until then, kids were merely little adults.
The film will find its place in European territories and in upscale arthouse venues in others.
Piroska (Gabor) was born too late. An enormous nurse in the terminal ward of a Budapest hospital who spends her working hours staring blankly at a wall of cardiac monitors, assisting doctors when they try to revive those whose hearts give out and changing adult diapers, she escapes the monotony of her job, the overexposure to death, and a deprecating husband (Znamenak) at home by retreating into her childhood. More than anything, she retreats from loneliness.
Triggered by the arrival and rapid passing of an old woman with the same name as the eponymous girl she remembers as her best friend until the age of 10, she embarks on an obsessive investigation into her whereabouts, following clues that take her, and the audience, on a journey through assorted strata of Hungarian society.
The problem is that most of those she talks to recall versions of the missing classmate quite different from hers. It hardly matters: The quest is all about Piroska herself. She wants to know if Adrienn ever mentioned her, even recoiling when a few remember someone else as the girl's best pal.
That celebratory scene is a welcome relief from the overly composed, frequently symmetrical compositions that Kocsis masterfully executes, but which are detrimental to the narrative, as is the cold, gray/blue co-production feel of the sanitised sets.
They become as monotonous as her job, and that is a hard sell in a film of 136 minutes that could easily shed 30-45. How often does the viewer need to see Piroska clomping down cold, empty hospital corridors? Nevertheless, the film will find its place in European territories and in upscale arthouse venues in others. The novelty of her size provides an easy marketing tool.
Except for the excessive thudding sound, Kocsis treats her protagonist with respect, refusing to exploit her girth for giggles. In Gabor's interpretation, Piroska exudes a quiet confidence when she interacts with others. She is empathetic, the clue being oblique references to a rumor on the ward about her, presumably that she diminishes the suffering of some patients by expediting their demise.
Production companies: KMH Film, Isabella Films, Freibeuter Film, Cinema Defacto, Oblamova Film
International sales: Elle Driver, (33) 6 99 47 98 10
Producer Ferenc Pusztai
Screenplay: Agnes Kocsis, Andrea Roberti
Cinematography: Adam Fillenz
Editor: Tamas Kollanyi
Production designer: Alexandra Maringer, Adrien Asztalos
Main cast: Eva Gabor, Istvan Znamenak, Akos Horvath, Lia Pokorny, Izabella Hegyi