Dir/scr. Heitor Dhalia. Brazil. 2009. 103mins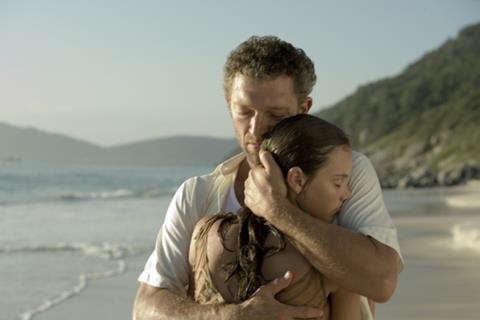 The familiar territory of marital strife and adolescent conflict is explored with sympathy and assurance in Heitor Dhalia's Adrift. Set in Brazil during the early 1980s, his film offers a bittersweet remembrance of a defining summer in the life of a teenage girl. Dhalia's sure command of character and performance are the main pleasures in this accessible drama that will be welcomed by festivals and should attract theatrical interest, especially in territories where Vincent Cassel's name provides leverage with distributors and audiences.
Newcomer Laura Neiva confidently handles the emotional demands of a character in transition from adolescence to adulthood
The director of low-budget, award-winning features Nina (2004) and Drained (2006), Dhalia moves into a different league with Adrift, a nostalgic, quasi-autobiographical rites-of-passage tale that reveals a full control of the medium stretching from the saturated, sun-burnished yellows of the colour palette to the effective deployment of a warm, Nymanesque musical score by Antonio Pinto. The film is handsome and enjoyable, although it still lacks that edge to make the difference between good and great.
The action takes place during a family vacation in Buzios. Filipa (Laura Neiva) is fourteen and the eldest of three children on holiday with their mother Clarice (Deborah Bloch) and father Mathias (Vincent Cassel), a successful French writer intent on finishing his latest novel. This is a marriage in crisis. Clarice drowns her sorrows in whisky and stings Mathias with her sarcastic comments. "Any topic is a pretext for you to attack me, " he observes.
There is a cruel edge to Clarice that Filipa seems to have inherited when she starts to exercise her newfound power over some of the local boys. When Filipa discovers that her father is having an affair with American holidaymaker Angela (Camilla Belle) she tries to prevent it from prompting the final breakdown of her parents' marriage. The situation is more complicated than she would like to imagine and the summer becomes a time of lost innocence and a dawning realisation of the complexities that await Filipa in the adult world.
Dhalia casts a very generous eye over his characters, refusing to appoint any one of them as the villain of the piece. Clarice has every reason to resent her husband's infidelities until we learn of her own affair. Mathias seems more of a loveable big brother than a father to his children until he is forced to accept his responsibilities. Filipa's desire to salvage her parents marriage reveals the innocence of good intentions rather than any destructive malice.
Dhalia secures solid performances from the entire cast with newcomer Laura Neiva confidently handling the emotional demands of a character in transition from adolescence to adulthood. Cassel, performing in Portuguese throughout, appears to relish a change of pace role far removed from the rascals and rogues that have become his forte in France. He is at his most charming and charismatic as a devoted family man whose special bond with daughter Filipa is the thing he fears losing most through the breakdown of his marriage.
Production Company
02 Filmes
International sales
Focus Features International
(44) 207 307 1330
Producers
Fernando Mereilles
Andrea Barata Ribiero
Bel Berlinck
Cinematography
Ricardo Della Rosa
Editor
Gustavo Giani
Music
Antonio Pinto
Main cast
Vincent Cassel
Debora Bloch
Camilla Belle
Laura Neiva