Dir: Wayne Thornley. South Africa. 2013. 83mins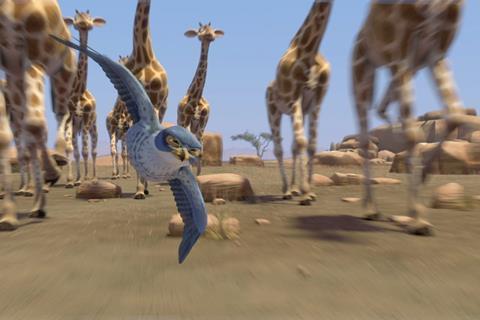 The engagingly good-natured animated adventure Adventures In Zambezia – which has become the highest grossing South African film in more than 30 years, taking more than $18 million through several key territories – is a colourful and breezy romp that should appeal to youngsters with school holidays looming.
Adventures In Zambezia offers warm-hearted kids animation with a message.
The film, which has opened theatrically in territories including Russia, Benelux and its native South Africa (sometimes simply titled Zambezia), is also set to open in Australia later this month while it goes straight to DVD and digital in the UK and the US.
Eschewing the traditional African animated landscapes seen in films such as The Lion King, and dwelling on high-flying birds rather than lions, elephants and monkeys, the film is largely air-bound and set against the backdrop of the Zambezia River Valley.
When young spirited falcon Kai (voiced by Jeremy Suarez, from The Bernie Mac Show) learns about Zambezia, the fabulous city of the birds, he leaves his remote cliff-top home against the wishes of his father (Samuel L Jackson), who turns out to have is own reasons for not wishing to return to the bird city.
But when his father is captured by an evil lizard who plans an attack on the city Kai must learn the importance of leadership if he is to rescue his father, save his new friends and help keep Zambezia free of the invading lizard hordes.
Samuel L Jackson offers his expected gravitas and sense of cool as Tendai (a concerned father who is worried about his son), while Abigail Breslin is sweet as Zoe, the young bird who is charmed by Kai's open enthusiasm. Richard E Grant is shoe-horned into a rather clichéd 'evil Brit' role, while Leonard Nimoy and Jeff Goldblum add an extra dose of class as elder statesmen of the city.
The animation is bright and colourful and the different bird characters nicely defined, and while the script feels a little over-developed (with echoes of The Lion King) at times and the bad-guys a simple vague about why they are actually attacking Zambezia, Adventures In Zambezia offers warm-hearted kids animation with a message.
Production companies: Triggerfish Animation, The Department of Trade and Industry for South Africa, National Film and Video Foundation of SA, Wonderful Works, 120dB Films
International sales: Cinema Management Group, www.cinemamanagementgroup.com
Producers: Mike Buckland, Stuart Forest, James Middleton, Anthony Silverston
Executive producers: Kofi Ambarbeng, Claire Becker, Greg Becker, Basil Ford, Peter Graham, Stephen Hays, Mace Neufeld, Edward Noeltner
Screenplay: Andrew Cook, Raffaella Delle Donne, Anthony Silverman, Wayne Thornley
Editors: Michel Smit, Paul Speirs, Luke MacKay
Production designer: Allan Cameron
Music: Bruce Retief
Website: www.zambeziamovie.com
Main cast: (voices) Jeremy Suarez, Abigail Breslin, Samuel L Jackson, Leonard Nimoy, Jeff Goldblum, Jennifer Lewis, Richard E Grant