Wendy Mitchell talks to Alice Lowe and Dolly Wells about starring in the funny improv comedy Black Mountain Poets, which had its world premiere this week at EIFF.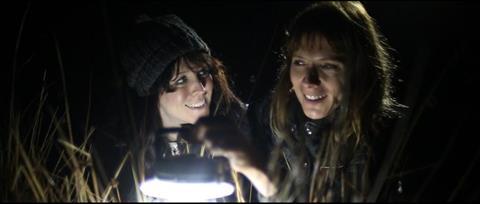 Alice Lowe and Dolly Wells play thieving sisters on the run who hide out during a poetry retreat in Black Mountain Poets, an improv comedy gem which premiered this week at the Edinburgh International Film Festival (EIFF).
Welsh director Jamie Adams made the film as the final project in his "modern romance" trilogy, after Benny & Jolene and A Wonderful Christmas Time.
Lowe and Wells play two sisters who are on the run from the police when they steal a car and find an invitation for "the Wilding Sisters" to attend a local poetry retreat. They assume the Wildings' identities and try to hide out during the poets' weekend camping trip.
The film was shot in just five days. As Lowe says: "It was going from naught to 100 in such a short time."
Pitching their own tent and surviving muddy downpours were just two logistical challenges of the production.
Wells explains: "It felt quite intense, you were very cold and very hungry. If it wasn't a five-day shoot, if it was going to be for 25 days, you might have gotten grumpy."
Adams had described the film as akin to Some Like It Hot but with sisters hiding at a poets retreat. There are funny moments about the world of amateur poets, but not as a mean-spirited target.
Wells says: "it wasn't really taking the piss. It was the same with Some Like It Hot, it's just these imposters in a new world."
They were basing their work not on a detailed script but more a loose treatment. It meant trusting each other on set. As Wells says: "There is something terrifying about there not being one line of dialogue on the page."
Lowe adds: "It's a way of challenging yourself. Jamie really is egoless enough to let the performers do that."
Tom Cullen, best known for more serious work in Weekend and Downton Abbey, plays a handsome poet with writers block who comes between the sisters.
Wells says of Cullen: "Tom is very funny in real life, he wanted to do comedy and he wanted the chance to improvise…he brings a realness to the character and a real depth."
Lowe, who has starred in Sightseers (which she co-wrote), Paddington and Horrible Histories, said the chance to work on something improvisational for the screen drew her in. "You realise a lot of comedy gets lost in development, so this film was bout capturing those moments."
Wells and Lowe have an easy rapport on screen. This is the first film they have done together but knew each other from the comedy circuit for more than a decade and had worked together on TV show Star Stories.
As Lowe says: "We're part of some of the same school of comedy," that includes working with the Mighty Boosh gang.
Lowe also said the chance to front a female-led comedy was important. "You rarely get to work with other women," she says. "They are fucked up but in an interesting way. It's a dynamic you rare get to see."
She adds: "It's not just the Bechdel test - I always want to say Béchamel test - I don't really agree with because I don't think you should put impositions on anything that is a creative piece of work.
"But I am conscious there is a female dynamic that people don't get exposed to. They're surprised by it.
"People say, 'It's so funny the way you talk to each other." Well, yes, that's how women talk to each other! You rarely see these female relationships on film. Showing that kind of relationship is cool."
Wells also leads another female fronted series, Doll & Em, with her real-life friend Emily Mortimer. "I had been working with women and really enjoying that."
Lowe wrote the sometimes funny, sometimes moving poetry her character performs in the film: "We were pretending to be poets so we could get away with being shit!"