Disney's move to shorten the theatrical window on Alice In Wonderland caused a major spat with exhibitors. John Hazelton looks at whether the film has set a precedent for a shift in studio distribution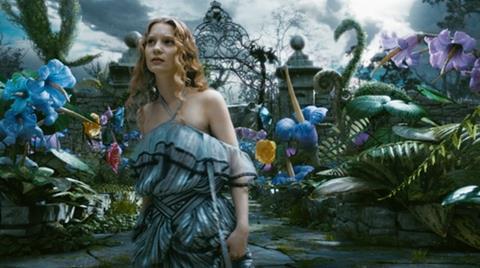 It has been four-and-a-half years since then-incoming Walt Disney Co chief executive Robert Iger first riled the exhibition industry by asserting (during a routine conference call with financial analysts) that "windows in general need to change. They need to compress."
But it has taken the arrival of Alice In Wonderland, Tim Burton's lavish new 3D family film – which has grossed over $230m worldwide since its launch earlier this month – to bring the "pushback" Iger predicted from the industry to a head.
US exhibitors were already in what sources say were delicate discussions with Disney when news broke publicly that the studio was planning to make Alice available on DVD ― in the US and a number of international markets ― just 12 weeks after its theatrical opening, taking more than a month out of the traditional 17-week theatrical window.
While a few US cinema operators said they would drop the film once it came out on DVD, most seem to have accepted Disney's request for co-operation in a plan that will put Alice on the domestic video retail market before the start of the summer DVD sales slump.
European exhibitors ― who sometimes have larger market shares and therefore more market clout than their US counterparts and who apparently had little warning about Disney's Alice plan ― were less amenable.
After hastily arranged meetings with top Disney executives, however, cinema chains including the UK's Odeon backed down from boycott threats that could have kept Alice off screens in the UK, Ireland and Italy. Concessions by the studio ― which wants to get Alice into DVD stores before the mid-June start of the World Cup football tournament ― are believed to have included an additional one-week delay before the DVD launch, a promise to delay DVD advertising until well into theatrical runs and, in Italy, a pledge to release several big titles during the usually moribund summer season.
Opening the door
What remains to be seen now is how far Alice, the biggest film yet to have an early DVD launch, has opened the door for other major studio releases to move more quickly from the theatrical to the video market.
Disney probably had its own reasons for making Alice in particular a test case. For one thing, the film is the first big DVD-friendly title whose release has been overseen by Bob Chapek, the former home-video head who in November became Disney's president of distribution across all platforms, including theatrical.
The underlying motivation for Disney's move is more significant, though. In the years since Iger first called for the compression of traditional windows, the US theatrical market has grown but DVD sales of feature-film titles have slumped. And new digital delivery mechanisms have not developed as quickly as hoped.
In those circumstances, says analyst Tom Adams of Adams Media Research, adjusting windows to help the weaker DVD and Blu-ray market "makes ­perfect sense".
Disney executives were not available for interview about their future windowing plans, but in a statement issued during the Alice spat, Chapek said that while the studio remained "committed to theatrical windows", it also sees "the need for exceptions to accommodate a shortened time frame on a case-by-case basis". Disney is thought to be talking to exhibitors about giving early DVD releases to a couple of major titles a year.
Other studios are almost certain to pursue similar strategies, using Alice as a precedent. A few experiments have already taken place ― last year Paramount released GI Joe: The Rise Of Cobra on DVD about 13 weeks after the film's theatrical launch ― and more are thought to be in the works.
Warner, for example, is reportedly planning to reduce the theatrical window for its autumn 3D animated feature Guardians Of Ga'hoole to just over 12 weeks, so the film can arrive in DVD stores before Christmas.
US exhibitors, who have up to now accepted the occasional 13-week theatrical window as long as distributors maintain an average across all releases of around 17 weeks, may have little choice but to adapt to the new strategies.
To compensate for any damage to their business, exhibitors may be able to negotiate more favourable rental terms with distributors or secure commitments for the release of more major titles in the often slow cinema-going months of March and September.
Predicting the financial effect of shorter theatrical windows ― on exhibitors, distributors and others in the film value chain ― is tricky.
Distributors may get more value out of theatrical prints and advertising spends and be able as a result to cut video marketing costs. And in spite of exhibitors' fears, theatrical revenues may not be damaged, at least not by a limited compression of the theatrical window.
"There's little reason to think a three-month instead of a four-month window is going to harm theatrical," says Tom Adams. "There's no consumer research that would suggest it. The research in fact suggests very clearly that, for the consumer, going to the movies is one thing and buying DVDs is another."
At the same time, Adams adds: "Shorter windows alone are not going to have a huge impact on DVD sales."
In the longer term, experiments such as Disney's move with Alice could lead to a broader discussion of the whole range of media windows.
Citing its importance as a driver of sales in other media, experts doubt that the pre-video theatrical window ― which, according to US exhibitors trade body the National Association of Theatre Owners, has shrunk over the past decade from an average of five months and 18 days to an average of four months and eight days ― will ever disappear altogether.
The window could, though, dwindle to as little as three months, especially if distributors renegotiate pay-TV deals whose value currently depends on ­theatrical gross figures.
Video on demand, meanwhile, could allow distributors to create a new pre-DVD window. Studios exploring the possibilities include Universal, whose pending acquisition by cable giant Comcast should open up fresh VoD opportunities.
Today (March 11), Universal is releasing Pirate Radio (aka The Boat That Rocked) digitally and on cable VoD in the US ― one month ahead of the film's DVD and Blu-ray home-video release. Universal Studios Home Entertainment president Craig Kornblau has described the experiment as "just one model we're exploring as we move through the process of evaluating the landscape".
Other digital media outlets, such as internet-based VoD services, will offer additional opportunities, as independent distributors have already discovered. With an increasing number of new-media distribution options, suggests Matt Dentler, head of programming at digital media sales operation Cinetic Rights Management, "what's important is to look at the different modes of distribution and the different windows as individual revenue streams. There's no one-size-fits-all for every single film."
Simultaneous future
One independent company that has taken a radical approach to windows is Todd Wagner and Mark Cuban's 2929 Entertainment, which has used its theatrical and video distribution operation Magnolia, its HDNet Movies cable network and its Landmark Theatres art-house chain to release some films simultaneously across theatrical, television and home-video platforms.
"In an analogue world, sequential windowing made perfect sense," says Wagner. "You controlled the product, it was very difficult to copy and it was very difficult to mass-distribute illegally. In a digital world, the rules have to be looked at differently."
Wagner says that in the digital world distributors have to be open to new ways of delivering content and maximising revenues. Exhibitors could benefit too, he says, if they were to negotiate with distributors over issues such as rental terms and ancillary revenues.
Disney's move with Alice, Wagner suggests, is a recognition of the new realities. "What you're seeing now is the beginning of studio chiefs and CEOs of the larger media companies saying, 'We've got to figure out how to make this ­business more profitable. We control some very important content so we're going to look at ways to get that content to people more efficiently and effectively.'"