Dir: Tim Burton. US. 2010. 107 mins.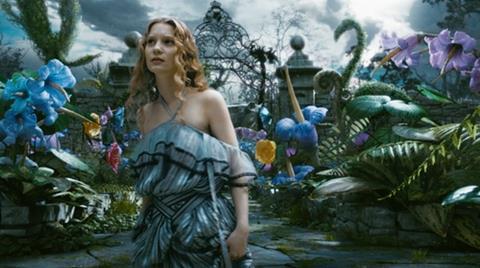 A gorgeously mounted but fundamentally humdrum telling of Lewis Carroll's fantasy novels, Tim Burton's Alice In Wonderland is no more or less engaging than one might expect from its arresting marketing materials. Filtered through the director's uniquely singular visual perspective, the movie achieves sumptuous beauty with ease but fails to connect on an emotional level, making for a pleasant but somewhat empty ride.
Alice by and large fails to make consistent use of depth of field in manner that would make 3-D viewing seem essential.
Disney's strong promotional push, an open playing field for family audiences, and Johnny Depp should guarantee a big opening, but a repeat of Charlie and the Chocolate Factory's $474m worldwide take may be hard to reach. Since Alice is pushing Avatar off many 3-D screens, this film will further test that market as well.
A brief prologue establishes young Alice as very much the daughter of her imaginative father. Thirteen years later, a 19-year-old Alice (Mia Wasikowska) is about to become engaged and feeling unsettled about the decisions that others seem to be making for her. She runs after a rabbit and tumbles down a hole into a whimsical "underland," where she meets a colorful cast of talking animals and other characters, including the Mad Hatter (Depp).
Individually and collectively, they tell her that if she is indeed the Alice they believe her to be, she's destined to slay the dragon-like Jabberwocky. This will break the hold of the cruel, capricious Red Queen (Helena Bonham Carter), and return her kindly sister the White Queen (Anne Hathaway) to power.
Burton taps many of his frequent collaborators for supporting roles, and they do not disappoint. Depp uses a lispy Scottish accent, but also wrings laughs out of a wide-eyed countenance. Bonham Carter, meanwhile, steals her scenes, capturing the large-headed Red Queen's solipsistic imperiousness with manic gleefulness.
Wasikowska (who shone on HBO's In Treatment) exudes a grounded maturity that belies her years, perhaps too much so, given that adolescent audiences are in theory meant to identify with Alice's frustration at being caught between two worlds.
Apart from the performances and Burton's characteristically lush visual style, though, Alice in Wonderland feels workmanlike, and almost joyless. There is some fun to be had around the edges with the supporting characters, but the movie's central thrust feels boilerplate.
There's precious little tension or surprise attached to Alice's heroic quest, and the Red Queen's absolutism ("Off with their heads!") doesn't gel into anything that is metaphorically meaningful for adults. Linda Woolverton's screenplay never convincingly settles the issue of whether Alice decides to fight the Jabberwocky for herself or her new "underland" friends.
Tech credits are superb. A hearty sound mix fortifies an early chase sequence with another of the Red Queen's monsters, the snarling Bandersnatch. Dariusz Wolski's cinematography ably captures disparate palettes, from verdant gardens to gloomy wastelands.
The production design creates an enveloping world. Special effects work is solid, except for some nagging problems with size and perspective, most readily apparent in Crispin Glover's rail-thin Knave of Hearts.
Notably, though, the movie by and large fails to make consistent use of depth of field in manner that would make 3-D viewing seem essential.
Production companies
Roth Films
The Zanuck Company
Team Todd
Worldwide distribution
Walt Disney Pictures
Producers
Richard Zanuck
Joe Roth
Jennifer Todd
Suzanne Todd
Screenplay
Linda Woolverton, based on the books by Lewis Carroll
Cinematography
Dariusz Wolski
Production design
Robert Stromberg
Editor
Chris Lebenzon
Music
Danny Elfman
Main cast
Mia Wasikowska
Johnny Depp
Helena Bonham Carter
Crispin Glover
Anne Hathaway
Matt Lucas
With the voices of
Michael Sheen
Alan Rickman
Stephen Fry
Barbara Windsor
Christopher Lee
Paul Whitehouse
Timothy Spall