Dir: Joe Wright. UK. 2012. 130mins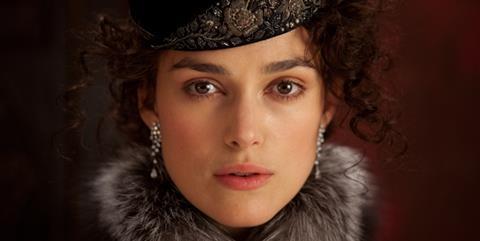 A bold, evocative and stimulating theatrical – in many senses of the word – version of Leo Tolstoy's much filmed novel, Joe Wright's vision of this obsessive love story set against the opulent backdrop of high society in imperial Russia in the 1870s will challenge audience expectations while also thrill those willing to go along with the swirling cinematic style.
While the story is a familiar one the new production at very least offers a bold, stirring and at times entrancing version.
Anna Karenina, which opens in the UK on September 7 prior to a North American premiere at Toronto, also features a captivating lead performance by Keira Knightley as Anna. A lyrical and elegant production, the clever staging brings the best out of Tom Stoppard intelligent, amusing and complex script, and while the structure and affectations may not appeal to purists it allows Wright to tell an epic love story in a lush and sumptuous manner.
It is the third time she and Wright have worked together – she also starred in his films Pride & Prejudice and Atonement – and he clearly brings out the best in her. Knightley is an actress who divides opinion, but there is no denying the camera loves her face and in period frocks there in no one to beat her. Her Anna impressive here – strikingly beautiful when filmed in a veil looking longingly at a young man who captures her heart, but also driven by a fierce logic and intelligence that makes her want to strive for the love she thinks she deserves even though deep down she knows she can never survive the harsh glare of society.
Beautiful Anna Karenina is married to staid but loyal Karenin (a buttoned-up Jude Law, whose solidity is the perfect balance to Anna's wilfulness), a high-ranking government official, and they have a young son and a strong social standing in St Petersburg. Called to Moscow by her errant brother Oblonsky (a terrific performance by Matthew Macfadyen, offering genial comedy to the role), whose philandering ways have final caused havoc to his marriage to Dolly (Kelly Macdonald), and he hopes Anna can try and ease the problems between them.
On the train to Moscow, Anna meets Countess Vronsky (Olivia Williams) who is met at the station by her son, dashing cavalry officer Count Vronsky (played with youthful enthusiasm by a blonde-haired moustache-twirling Aaron Taylor-Johnson). When they are introduced there is an instant attraction between Vronsky and her.
Also visiting the Oblonsky household is his best friend Levin (Domhnall Gleeson), a sensitive – and therefore heavily bearded and with long, lank, hair – landowner who plans to ask Dolly's sister Kitty (Alicia Vikander) to marry him. But she is entranced by Vronsky, who leaves her heartbroken at a lavish ball when he pursues Anna. Levin leaves from his Pokrovskoe estate, determined to work the land and forget Kitty.
Anna returns to St Petersburg, but Vronsky follows her with the two eventually embarking on a passionate affair that scandalises St Petersburg society and finally places Karenin in a position where he must give his wife an ultimatum…to put the affair aside and return to him and their son, or to lose her place in society. While Anna thinks she can have everything – a love affair, her place in society and her son – but there are terrible consequences to her obsessive romance.
Forsaking traditional sets and locations, for much of the film the story is set within a massive and rather rambling theatre – there are scenes that emphasise the expanse of Russia, particularly when the film focuses on Levin's farm – with scenes set on the stage itself as well as in the lower levels, elevated rigging, mirrored galleries and against painted backdrops.
And for much of the first half of the film Wright keeps things moving with a real sense of energy, to the degree that it is only when Anna returns to St Petersburg that the rhythm settles to a more modest pace. Particularly striking early in the film is the opulent ball where Vronsky and Anna first dance, with original and rather erotic (though never overt) choreography by Sidi Larbi Cherkaoui helping give the film a strange and wonderful quality.
Beautifully shot by Seamus McGarvey (a rather change of pace and style from Marvel's The Avengers) and with elegant production design by Sarah Greenwood, Anna Karenina is likely to divide opinion – in a similar way Keira Knightley seems to divide audiences – but while the story is a familiar one the new production at very least offers a bold, stirring and at times entrancing version. It is long certainly, and at times the Levin subplot hampers the flow of the story, but the performances are all impressive and as stories of obsessive love go it is a gripping and moving film.
Production company: Working Title
International distribution: Universal Pictures
Producers: Tim Bevan, Eric Fellner, Paul Webster
Executive producer: Liza Chasen
Screenplay: Tom Stoppard, based on the novella by Leo Tolstoy
Cinematography: Seamus McGarvey
Editor: Melanie Ann Oliver
Production designer: Sarah Greenwood
Music: Dario Marianelli
Main cast: Keira Knightley, Jude Law, Aaron Taylor-Johnson, Matthew Macfadyen, Kelly Macdonald, Domhnall Gleeson, Alicia Vikander, Olivia Williams, Emily Watson, Holiday Grainger, David Wilmot