Dir/scr: Nicholas Jarecki. US. 2012. 110mins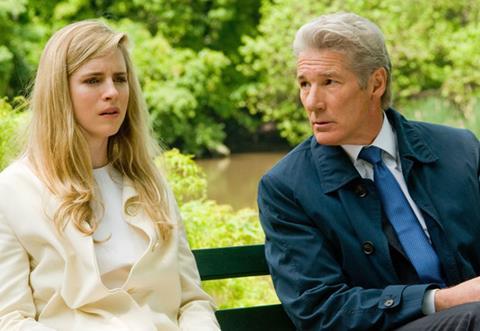 If the world needs another tale of Wall Street corruption and the immorality of the top 1%, here comes Nicholas Jarecki's directorial debut Arbitrage, a serviceable, crisply paced drama about a billionaire patriarch trying to hold his life—and fortunes—together. With a cavalcade of name actors and a healthy marketing budget, the film could do some business in the U.S. and internationally. But it's not going to win any prizes for originality.
Arbitrage is barely a few notches above the long-running episodic series, which half the time has a rich bad guy who inevitably gets his comeuppance.
Robert Miller (Richard Gere) is a hedge fund magnate, celebrating his 60th birthday with his beautiful family, while he awaits the impending sale of his corporation to a rival investment bank. Seemingly unbeknownst to his family and associates, however, he has a few secrets: a French lover (Laetitia Casta) who runs an art gallery and some unethical bookkeeping in his company accounts. It's only a matter of time, of course, before, as Miller says in an opening monologue about the economic collapse, "reality sets in and the bubble bursts."
Right on time, a first act twist involving a car accident sends Miller reeling, raising the stakes for all involved, and turning this would-be financial thriller into a full-blown morality tale.
Jarecki continually ratchets up the tension: Will the big acquisition deal go through? Will Miller's beautiful, brilliant daughter (Brit Marling) discover the cooked books that could cripple the deal? And will a smarmy New York detective (Tim Roth), investigating the car accident, uncover Miller's personal secrets and bring everything crumbling down?
Now why should audiences care about a white-collar criminal and philanderer? Richard Gere delivers a solid performance as a man under pressure, sweating out his impending downfall and trying to survive. But he's no Gordon Gecko villain for the ages. And he's certainly no great sympathetic protagonist. He's just a rich guy who gamed the financial system and lied to his family, which, despite the film's every attempts, makes him a difficult hero to root for.
Still, there may be some pleasure in seeing Gere, still smooth after all these years, in full confidence and charisma, working a room. But unlike, say, the few likeable characters in the recent Wall Street-themed hit "Margin Call," just about everyone in Arbitrage—with the exception of Marling's do-gooder daughter and an innocent young black man who becomes embroiled in Miller's cover-ups—is a bastard.
Even Tim Roth's bushy-moustached detective, who seems right out of an episode of Law & Order, is just as complicit in corruption.
The TV reference is fitting, as Arbitrage is barely a few notches above the long-running episodic series, which half the time has a rich bad guy who inevitably gets his comeuppance. While there may be some fun watching the treachery that exists beneath all those diamond necklaces and tuxedos, at this point in time, the wish-fulfillment fantasy is also getting a little tired.
Production companies: Green Room Films, TreeHouse Pictures, Parlay Films, LB Productions, Artina Films
International sales: Parlay Films, www.parlayfilms.com
Producers: Laura Bickford, Kevin Turen, Justin Nappi, Robert Salerno
Executive Producers: Brian Young, Mohammed Al Turki, Lisa Wilson, Stanislaw Tyczynski, Lauren Versel, Maria Teresa Arida, Ron Curtis
Cinematography: Yorick Le Saux
Production designer: Beth Mickle
Editor: Douglas Crise
Music: Cliff Martinez
Website:
Main cast: Richard Gere, Susan Sarandon, Tim Roth, Brit Marling, Nate Parker, Laetitia Casta