Dir/scr: Sylvain Chomet. France. 2013. 106mins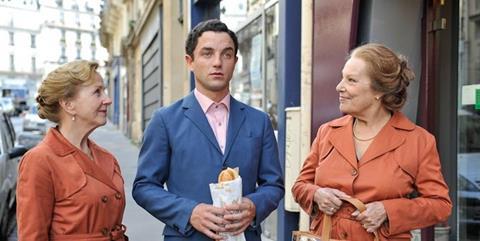 After the success of his first two animation features (The Triplets Of Belleville and The Illusionist), Sylvain Chomet's first live action film turns out to be as esoteric and whimsically poetic as all his previous work and most likely to cater to the same kind of audience. A modern fairytale -with nods to his beloved Jacques Tati, as well as Jacques Demy - the story of a 33 year-old pianist who hasn't uttered a word since he witnessed, as a baby, the death of his parents, turns out to be a gently humorous satire, but could easily forge a solid niche for itself.
Chomet's transition to live action appears to be painless and the colour palette he uses is not that far removed from his animation days.
Taking its inspiration from a song written by Chomet for his earlier film Triplets, the script follows Paul (Guillaume Gouix, emulating Buster Keaton but breaking into a smile every once in a while) sleepwalking through life, smothered by his two old-fashioned elderly aunts (delightfully performed by Helene Vincent and the recently deceased Bernadette Lafont, to whom the film is dedicated) who expect him, year after year, to win an international piano competition and become famous.
In the meantime, they have him play at their dance course, where they teach everything to a bunch of characters whose physical appearance should get casting director Gerard Moulevrier a special distinction.
Since his stiff-necked aunts seem interested in nothing else but his future career, it is the downstairs neighbor, Madame Proust (Anne Le Ny), a Buddhist ecology nut whose flat looks like a green garden producing giant vegetables, who comes to his aid. A sip of mysterious tea (doubtlessly re-enforced by some LSD), a Madeleine cookie, a few notes of evocative music, and her clients, including Paul, are put on a trip back to their past, reliving their repressed memories, the kind of treatment no shrink can hope to match.
More so, since some of these memories turn into colourful little musical numbers, the most spectacular showing Paul's parents in a boxing rink, sparing in a carefully choreographed combination of wrestling and tango.
Though there is no definite time frame and no specific place (most of the film was shot on a soundstage) for this story though the general tone is something of a flashback to the 1970s. Chomet, despite his chiding attitude to most of them, embraces all his characters with immense sympathy. His tongue-in-cheek humour is implicit, never actually inviting guffaws, it's all in the smart winks that never need to develop into anything more.
These characters include the doctor (Cyril Couton) who loves animals so much he dreams of being a taxidermist and the blind piano tuner called Mr Coehlo (Luis Rego) who tunes up everything, including the staircase banister.
To quote Chomet, once you cast the right actors most of the work is done and in this case, it turns out to be true. Guillaume Gouix's face manages, at times, to look almost like a plaster copy of the original, the almost immobile expression and total absence of lines required by the role never impending his performance, while Anne Le Ny's lively presence steals almost every scene she is in.
Chomet's transition to live action appears to be painless and the colour palette he uses is not that far removed from his animation days. Here however, he has full support not only from Antoine Roch's cinematography and from a musical score replete with echoes of everything from Delibes' Lakme to Michel Legrand. Carlos Conti's sets effectively establish the counterpoint between the two flats in which the action takes place, and Olivier Beriot's costumes - whether Paul's multi-hued tight suits, Mrs. Proust's gaily adorned beat generation dress or the identical, strict-laced garb, almost uniforms, put on the two aunties - perfectly define their respective characters.
Production companies: Eurowide Film Production, Pathe Production
Producers: Claudie Ossard, Chris Bolzli
International sales: Pathe International, www.patheinternational.com
Cinematography: Antoine Roch
Editor: Simon Jacquet
Production designer: Carlos Conti
Music: Sylvain Chomet, Frank Monbaylet
Main cast: Guillaume Gouix, Anne Le Ny, Bernadette Lafont, Helene Vincent, Luis Rego, Fanny Touron, Kea Kaing, Jean-Claude Dreyfuss, Cyril Couton