Australian films enjoy best ever year at local box office with Mad Max: Fury Road and The Dressmaker boosting results.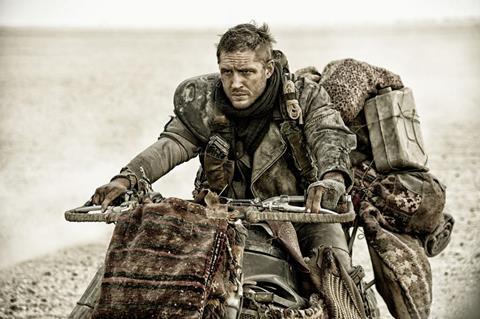 The Motion Picture Distributors Association of Australia (MPDAA) has revealed that 2015 annual gross revenue totalled $829m (A$1.2bn). This result beats the previous record set in 2010, the year of Avatar's release, when Australian cinemas netted $780m (A$1.13bn). The figures also represent a 14% increase from 2014.
Star Wars: The Force Awakens closed the year in first place after its first two weeks of release, with its 2015 figures totalling $43.37m (A$62.78m).
However, the Australian box office was already on track for a record year prior to The Force Awakens' December 15 premiere, thanks to the success of a slew of sequels and franchise films such as Jurassic World ($36.58m / A$52.94m), Fast And Furious 7 ($29.94m / A$43.34m), Avengers: The Age Of Ultron ($27.71m / A$40.11m), and Spectre ($23.9m / $A34.6m).
Disney's juggernaut Force Awakens is still in release and has taken an additional $15.9m (A$23m) in the first three weeks of 2016, but it is yet to threaten Avatar's $80m1m (A$116m) takings, nor its position as the all-time number one film in Australia.
On the domestic front, Australian films enjoyed their best-ever year at the box office, with an unprecedented $60.8m ($A88m) in local takings – an increase of $17m ($A24.6m) on the 2001 record – representing a 7.18 percent share of the overall revenue.
The main contributors to this were the Australian-produced Mad Max: Fury Road ($15m / A$21.7m), Russell Crowe's The Water Diviner ($7m / A$10.18m in 2015 and $10.9m / A$15.8m cume) and Jocelyn Moorhouse's The Dressmaker, which grossed a remarkable $12.9m (A$18.6m) in 2015 and is still in release, with a likely final tally of $13.8m (A$20m).
On the factual front, That Sugar Film - a Super Size Me-like exposé of the dangers of a high sugar diet - took more than $1.17m (A$1.7m) to become the highest-grossing Australian documentary (outside of IMAX).
MPDAA deputy chair Mike Baard said the achievement of Australian films in 2015, "shows that if we make the right movies Australian audiences are very excited to see Australian stories on the big screen".
The overall top ten accounted for $264.3m ($A382.4m) in revenue – an increase of $83m (A$120m) over 2014. Baard said Australia's results were in line with international trends.
"Looking back through the years, there's always an anomaly, whether it's the year of Titanic or the year of Avatar; every few years a movie comes along that really does capture the imagination of the world and it goes on to do big business and lifts the overall box office. What we saw this year was the perfect storm of five, six seven of those movies."
In 2015 there were several high profile leaks of studio movies to torrent sites, however Baard said there was no accurate measure to determine the financial impact of piracy upon the cinema industry in 2015. "Piracy is running into millions and millions per film," he estimated, but noted positive steps in the passage of anti-piracy /website-blocking legislation (the Copyright Amendment -Online Infringement-Bill 2015) in the Australian Senate in June 2015.
"[Piracy] is an ongoing battle and we hope to continue making inroads," he said.
Top 10 at the 2015 Australian box office
| # | Title | Distributor | BO (A$) |
| --- | --- | --- | --- |
| 1 | Star Wars: The Force Awakens | Walt Disney | 62,785,185 |
| 2 | Jurassic World | Universal | 52,938,244 |
| 3 | Fast And Furious 7 | Universal | 43,337,100 |
| 4 | The Avengers: Age Of Ultron | Walt Disney | 40,113,085 |
| 5 | Spectre | Sony Pictures | 34,578,531 |
| 6 | Minions | Universal | 32,905,862 |
| 7 | Inside Out | Walt Disney | 31,144,188 |
| 8 | The Hunger Games: Mockingjay Part 2 | Roadshow | 29,002,702 |
| 9 | Pitch Perfect 2 | Universal | 28,125,863 |
| 10 | The Martian | Fox | 27,427,945 |