Screen brings you a selection of this year's potential adapted screenplay awards contenders.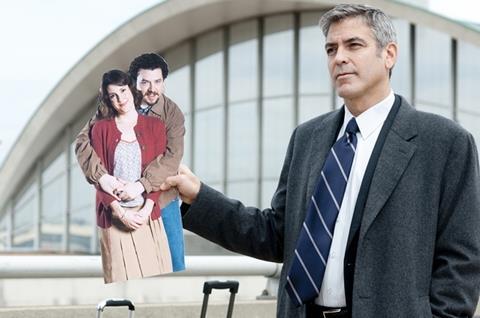 Jason Reitman and Sheldon Turner
Source material: novel by Walter Kirn
Reitman's latest screenplay will almost inevitably secure him another Oscar nomination - he was previously nominated as director of Juno - for its smart, dense dialogue and social relevance in its depiction of the business of sacking staff.
Source material: memoir by Lynn Barber
Bestselling UK novelist Hornby -the author of High Fidelity and About A Boy -wrote his first adapted screenplay, transposing Lynn Barber's memoir of her first love affair with wit, intelligence and a keen understanding of the social mores of England as it emerged from the shadow of the Second World War and into the swinging sixties.
Source material: non-fiction book by Jon Ronson
Straughan invented a whole plot and setting (within the Iraq conflict) in which to weave the characters and situations described in Jon Ronson's book about the US military's involvement with New Age and paranormal concepts.
Source material: Julie & Julia by Julie Powell, and My Life In France by Julia Child and Alex Prud'homme
Ephron returned to form in 2009, cleverly weaving the fabric of two books into one script -Julie Powell's memoir about cooking all of US TV chef Julia Child's recipes in a single year, and Child's own memoirs of her early life in Paris and her discovery of cordon bleu cooking.
David Scearce and Tom Ford
Source material: novel by Christopher Isherwood
Ford rose to the challenge of adapting Christopher Isherwood's novel, an inner monologue of sorts about a day in the life of
a gay man in early 1960s Los Angeles, and turned it into a movie, adding the plot strand of his suicide and developing the supporting characters. Scearce has a writing credit since Ford used some sections from Scearce's screenplay, which Ford bought as part of the package when he acquired the rights to the book.
Source material: script by Susanne Bier and Anders Thomas Jensen
Screenwriter and novelist Benioff did one of the best jobs in recent memory of adapting a foreign-language film. He switched Susanne Bier's Brodre to a US setting, relocating from Denmark to the Midwest the drama of a soldier returning from the Afghanistan war, with all the social, language and cultural differences that entails.
Geoffrey Fletcher
Precious: Based On The Novel Push By Sapphire
The inner world of Precious Jones as written and often misspelled in her first person prose became a bestselling novel for poet and teacher Sapphire, and, once she had signed over the film rights to Lee Daniels, he enlisted film-maker and film professor Fletcher to adapt it. Fletcher fleshed out some supporting characters and expanded the fantasy sequences and the humour to bring her struggle to life.

Source material: non-fiction book Playing The Enemy by John Carlin
Peckham, who grew up in South Africa, was hired by producer Mace Neufeld to adapt John Carlin's book proposal and created a classic linear structure out of the true story of Nelson Mandela's behind-the-scenes involvement in the 1995 Rugby Union World Cup.
Michael Tolkin and Anthony Minghella
Source material: stage musical, book by Arthur Kopit and Mario Fratti, music and lyrics by Maury Yeston
Tolkin wrote the first draft and then, after the writers' strike, Minghella stepped in to rework the screenplay for Rob Marshall's film version of the Broadway musical, weaving together the reality, past and present, and fantasy lives of a Federico Fellini-style director.
Fran Walsh, Philippa Boyens and Peter Jackson
Source material: novel by Alice Sebold
The Oscar-winning New Zealand writing trio took the beloved 2002 novel by Alice Sebold and made it their own, streamlining the novelist's complicated structure and losing several storylines while expanding on the book's afterlife section, which they rooted in the lead character's understanding and vision of the world.