Birdman earned six nods and Boyhood, Nightcrawler and Selma five apiece as Rosario Dawson and Diego Luna unveiled the 2014 Spirit Award nominations in Los Angeles on November 25.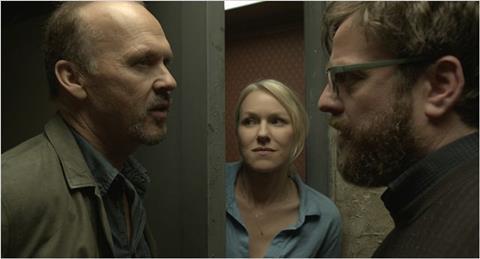 Scroll down for full list of nominations
Birdman, Boyhood and Selma are in contention for best feature alongside Love Is Strange and Whiplash, which earned four nominations.
Richard Linklater and Alejandro G Iñárritu join Whiplash's Damien Chazelle, Selma's Ava DuVernay and David Zellner for Kumiko, The Treasure Hunter on the directors list.
Much-fancied Michael Keaton is nominated for his lead performance in Birdman and will compete against Nightcrawler's Jake Gyllenhaal and Selma's David Oyelowo, a late arrival to the awards banquet who has earned high praise in recent weeks for his role as Martin Luther King Jr.
The best actress category is populated by Julianne Moore for Still Alice — arguably the awards season front-runner in this race — as well as Marion Cotillard for The Immigrant, which picked up its second nod for Darius Khondji's cinematography.
Boyhood's Patricia Arquette and Ethan Hawke are among the supporting actor nominees but Ellar Coltrane, the youngster who played the lead when he was aged seven to 19, is omitted. Hawke competes again JK Simmons from Whiplash, who is viewed as the favourite to win the Academy Award despite a strong category.
A titanic best international film category includes Ida, Force Majeure, Leviathan and Mommy as well as Norte, The End Of History.
CitizenFour is among the documentary nominees alongside The Salt Of The Earth and Virunga, among others.
Spirit Award nominations

BEST FEATURE
Award given to the producer/s. Executive producers are not awarded.

Birdman
Alejandro G Iñárritu, John Lesher, Arnon Milchan, James W Skotchdopole

Boyhood
Richard Linklater, Jonathan Sehring, John Sloss, Cathleen Sutherland

Love Is Strange
Lucas Joaquin, Lars Knudsen, Ira Sachs, Jayne Baron Sherman, Jay Van Hoy

Selma
Christian Colson, Dede Gardner, Jeremy Kleiner, Oprah Winfrey

Whiplash
Jason Blum, Helen Estabrook, David Lancaster, Michael Litvak
BEST DIRECTOR
Damien Chazelle, Whiplash
Ava DuVernay, Selma
Alejandro G Iñárritu, Birdman
Richard Linklater, Boyhood
David Zellner, Kumiko, The Treasure Hunter
BEST SCREENPLAY
Scott Alexander & Larry Karaszewski, Big Eyes
JC Chandor, A Most Violent Year
Dan Gilroy, Nightcrawler
Jim Jarmusch, Only Lovers Left Alive
Ira Sachs & Mauricio Zacharias, Love Is Strange
BEST FIRST FEATURE
Award given to the director and producer
A Girl Walks Home Alone At Night
Director: Ana Lily Amirpour
Producers: Justin Begnaud, Sina Sayyah

Dear White People
Director/Producer: Justin Simien
Producers: Effie T. Brown, Ann Le, Julia Lebedev, Angel Lopez, Lena Waithe

Nightcrawler
Director: Dan Gilroy
Producers: Jennifer Fox, Tony Gilroy, Jake Gyllenhaal, David Lancaster, Michel Litvak

Obvious Child
Director: Gillian Robespierre
Producer: Elisabeth Holm

She's Lost Control
Director/producer: Anja Marquardt
Producers: Mollye Asher, Kiara C. Jones
BEST FIRST SCREENPLAY
Desiree Akhavan, Appropriate Behavior
Sara Colangelo, Little Accidents
Justin Lader, The One I Love
Anja Marquardt, She's Lost Control
Justin Simien, Dear White People
JOHN CASSAVETES AWARD
Given to the best feature made for under $500,000. Award given to the writer, director and producer. Executive producers are not awarded.

Blue Ruin
Writer/director: Jeremy Saulnier
Producers: Richard Peete, Vincent Savino, Anish Savjani

It Felt Like Love
Writer/director/producer: Eliza Hittman
Producers: Shrihari Sathe, Laura Wagner

Land Ho!
Writers/directors: Aaron Katz & Martha Stephens
Producers: Christina Jennings, Mynette Louie, Sara Murphy

Man From Reno
Writer/director: Dave Boyle
Writers: Joel Clark, Michael Lerman
Producer: Ko Mori

Test
Writer/director/producer: Chris Mason Johnson
Producer: Chris Martin
BEST FEMALE LEAD
Marion Cotillard, The Immigrant
Rinko Kikuchi, Kumiko, The Treasure Hunter
Julianne Moore, Still Alice
Jenny Slate, Obvious Child
Tilda Swinton, Only Lovers Left Alive
BEST MALE LEAD
André Benjamin, Jimi: All Is By My Side
Jake Gyllenhaal, Nightcrawler
Michael Keaton, Birdman
John Lithgow, Love Is Strange
David Oyelowo, Selma
BEST SUPPORTING FEMALE
Patricia Arquette, Boyhood
Jessica Chastain, A Most Violent Year
Carmen Ejogo, Selma
Andrea Suarez Paz, Stand Clear Of The Closing Doors
Emma Stone, Birdman
BEST SUPPORTING MALE
Riz Ahmed, Nightcrawler
Ethan Hawke, Boyhood
Alfred Molina, Love Is Strange
Edward Norton, Birdman
JK Simmons, Whiplash
BEST CINEMATOGRAPHY
Darius Khondji, The Immigrant
Emmanuel Lubezki, Birdman
Sean Porter, It Felt Like Love
Lyle Vincent, A Girl Walks Home Alone At Night
Bradford Young, Selma
BEST EDITING
Sandra Adair, Boyhood
Tom Cross, Whiplash
John Gilroy, Nightcrawler
Ron Patane, A Most Violent Year
Adam Wingard, The Guest
BEST DOCUMENTARY
Award given to the director and producer

20,000 Days On Earth
Directors: Iain Forsyth & Jane Pollard
Producers: Dan Bowen, James Wilson

CitizenFour
Director/producer: Laura Poitras
Producers: Mathilde Bonnefoy, Dirk Wilutzky

Stray Dog
Director: Debra Granik
Producer: Anne Rosellini

The Salt Of The Earth
Directors: Juliano Ribeiro Salgado and Wim Wenders
Producer: David Rosier

Virunga
Director/producer: Orlando von Einsiedel
Producer: Joanna Natasegara

BEST INTERNATIONAL FILM
Award given to the director

Force Majeure (Sweden)
Director: Ruben Östlund

Ida (Poland)
Director: Pawel Pawlikowsi

Leviathan (Russia)
Director: Andrey Zvyagintsev

Mommy (Canada)
Director: Xavier Dolan

Norte, The End Of History (Philippines)
Director: Lav Diaz

Under The Skin (UK)
Director: Jonathan Glazer
ROBERT ALTMAN AWARD
Given to one film's director, casting director and ensemble cast

Inherent Vice
Director: Paul Thomas Anderson
Casting director: Cassandra Kulukundis
Ensemble Cast: Josh Brolin, Martin Donovan, Jena Malone, Joanna Newsom, Joaquin Phoenix, Eric Roberts, Maya Rudolph, Martin Short Serena Scott Thomas, Benicio Del Toro, Katherine Waterston, Michael Kenneth Williams, Owen Wilson, Reese Witherspoon
SPECIAL DISTINCTION AWARD
Foxcatcher
Director/producer: Bennett Miller
Producers: Anthony Bregman, Megan Ellison, Jon Kilik
Writers: E Max Frye, Dan Futterman
Actors: Steve Carell, Mark Ruffalo, Channing Tatum

18th ANNUAL PIAGET PRODUCERS AWARD
The 18th annual Producers Award, sponsored by Piaget, honors emerging producers who, despite highly limited resources, demonstrate the creativity, tenacity and vision required to produce quality, independent films. The award includes a $25,000 unrestricted grant funded by Piaget.
Chad Burris
Elisabeth Holm
Chris Ohlson
21st ANNUAL KIEHL'S SOMEONE TO WATCH AWARD
The 21st annual Someone To Watch Award, sponsored by Kiehl's Since 1851, recognises a talented filmmaker of singular vision who has not yet received appropriate recognition. The award includes a $25,000 unrestricted grant funded by Kiehl's Since 1851.
A Girl Walks Home Alone At Night
Director: Ana Lily Amirpour
H.
Directors: Rania Attieh & Daniel Garcia
The Retrieval
Director: Chris Eska
20th ANNUAL LENSCRAFTERS TRUER THAN FICTION AWARD
The 20th annual Truer Than Fiction Award, sponsored by LensCrafters is presented to an emerging director of non-fiction features who has not yet received significant recognition. The award includes a $25,000 unrestricted grant funded by LensCrafters.

Approaching The Elephant
Director: Amanda Rose Wilder
Evolution Of A Criminal
Director: Darius Clark Monroe
The Kill Team
Director: Dan Krauss
The Last Season
Director: Sara Dosa