The BAFTA LA hierarchy announced on Friday that they will present the star with the Albert R Broccoli Britannia Award for Worldwide Contribution To Entertainment in Los Angeles on October 30.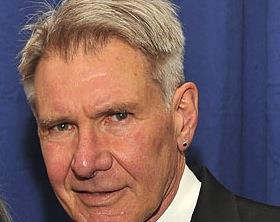 Ford is set to reprise his career-making role as Han Solo in the December 18 release of Stars Wars: Episode VII — The Force Awakens.
His other credits include Blade Runner, the Raiders Of The Lost Ark franchise, Witness, American Graffiti and Patriot Games.
The US television premiere of the 2015 Jaguar Land Rover British Academy Britannia Awards will air on Pop on November 6. The show will also air in the UK and other broadcasters in Europe, Latin America, Canada, South Africa and Asia.
"We are proud that the British Academy Britannia Awards will be aired around the world this year, including both the US and UK," said BAFTA Los Angeles CEO Chantal Rickards. "This is a big year for the ceremony, and so we are delighted that Pop will be broadcasting the occasion to homes throughout the United States."
"It is impossible to imagine the past 40 years of Hollywood history without Harrison Ford, and his performances are as iconic as the films themselves." said BAFTA Los Angeles chairman Kieran Breen.
"Not only is he a superb actor, but he has remained a uniquely compelling and beloved audience favourite throughout his career. We are delighted to honour him this year with the Albert R Broccoli Britannia Award."
BAFTA LA also announced that British actor and comedian Jack Whitehall will host the year's award show.
"With our outstanding slate of deserving honourees, our hilarious new host Jack Whitehall, and our new US broadcast partner Pop, we can't help but be tremendously excited for the biggest British night in the Hollywood calendar," said Britannia Award co-chairs Adam Bialow and Deborah Kolar.
As previously announced, Orlando Bloom will receive the Britannia Humanitarian Award, while Meryl Streep will receive the Stanley Kubrick Britannia Award for Excellence In Film, Sam Mendes the John Schlesinger Britannia Award For Excellence In Directing, James Corden the Britannia Award For British Artist Of The Year and Amy Schumer the Charlie Chaplin Britannia Award For Excellence In Comedy.