While Netflix and Amazon among others are revitalising the documentary sector in the US, it's a different story in Europe, where factual film-makers are fighting for funds.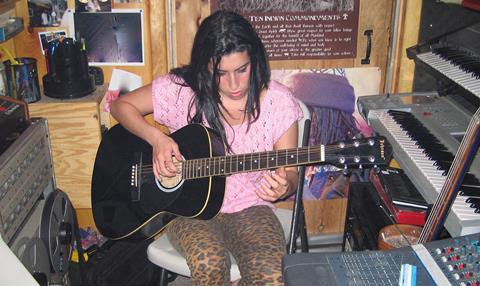 When it comes to potential outlets, feature documentaries have never had it so good. In the UK, more than 80 documentaries were released theatrically in 2015 — a huge number, relatively, and one that does not take into consideration the many event cinema offerings.
The major international film festivals all showcase feature documentaries, often in their main competitions, and specialist documentary festivals are flourishing.
"The small stories from one country that will transnationally encourage audiences to think outside of their backyard are disappearing" - Esther van Messel, First Hand Films
Documentaries are also an ever more protean genre. This year has seen intimate family memoirs, features about rock stars, sports legends, the environment, serial killers, wine-making, sci-fi, nutrition, jewellery, fashion, cricket and drug running — and plenty about human rights.
The long list of 15 documentaries in contention for the best documentary feature Academy Award hints at the sheer range of films being made. It includes everything from Asif Kapadia's Amy to Davis Guggenheim's He Named Me Malala, from Joshua Oppenheimer's The Look Of Silence to Stevan Riley's Listen To Me Marlon.
With Netflix and Amazon Studios acquiring and commissioning feature-length documentaries too, the opportunities for factual film-makers to put their work in front of audiences are increasing all the time.
Even so, the mood among many buyers, sellers, commissioning editors and film-makers attending the recent International Documentary Festival Amsterdam (IDFA), one of the largest documentary industry events in the calendar, was an anxious one.
Although the industry is in the midst of an extraordinarily rich period in documentary making, public broadcasters in Europe are turning their back on the form and funding is drying up.
Documentaries are not seen as ratings winners and, at a time when many European public broadcasters are facing cuts in funding, reality TV is pushing documentaries from the schedules.
This matters because, in Europe especially, TV has always been the main funder of documentary. Without public broadcaster support, the boom in documentary making could prove short lived.
And although the entrance of Netflix, Amazon and others into the market is generally welcomed, film-makers, rights holders and traditional distributors are grappling with what their arrival means to them.
On the face of it, the streaming giants are giving the sector a major boost and paying very generously to acquire documentary rights.
"We're all very lucky to have them, from CNN to Amazon, to HBO, to Showtime, to A&E," says the Oscar-winning US director Barbara Kopple. She suggests these are halcyon days for documentary, and there is a more positive attitude toward the form than when she started in the business 50 years ago.
"There are so many places out there and so many wonderful films. It is extraordinary what's happened," she says.
Errol Morris, another of the biggest US names in documentary, is starting work on a six-hour murder-mystery documentary that is being wholly financed by Netflix, and will be branded a Netflix Original.
The US giant has committed to fully finance around six Netflix Original documentaries a year, asking for all rights in return, paying up to low seven-figure sums. It also acquires completed films in multi-territory deals; producers cite figures of between $250,000 and $300,000 per title.
"I wish there were other platforms like Netflix that gave this importance to documentary" - Ana Vicente, Dogwoof
"The deals are not that great given what you have to deliver and the rights you are giving up," says one leading documentary sales agent. "The fact is a lot of people will not work with you if there is a Netflix tag on a film."
What's more, audiences will be unable to see a film such as Liz Garbus's Netflix original title What Happened, Miss Simone? unless they are Netflix subscribers. Of course, not everyone see this as a problem.
"They are a big player, a key player nowadays," says Ana Vicente, head of international theatrical sales at Dogwoof. "I wish there were other platforms like them that gave this [level of] importance to documentary."
The decision for rights holders on whether to sell to Netflix is determined by the perceived box-office potential of any given feature documentary. The amount Netflix will likely pay for exclusive rights will be far less than the film could make if it is released successfully in cinemas.
Sales agent Dogwoof turned down an all-rights offer from Netflix for Frédéric Tcheng's Dior And I. "A documentary like Dior And I can gross a high number at the box office," says Dogwoof's Vicente. "Even though you might have a Netflix deal on the table, you have to know the potential of this film in cinemas and other ancillaries. It may not make sense to go to Netflix."
Dior And I grossed more than $1m at the US box office and has opened theatrically in various international territories. Netflix bought various ancillary rights to the film.
Most feature documentaries, however, aren't likely to have significant cinema lives. For every Amy, there are dozens of blink-and-you'll-miss-them documentary releases — films that are on cinema screens for a matter of days before migrating to online platforms. And most no longer find a home on European television.
This was a point made forcefully by BBC Storyville editor Nick Fraser during IDFA, who spoke of "a real crisis in documentary funding among broadcasters".
This is a problem that the presence of new players distributing documentaries does little to alleviate. As Fraser puts it: "The popularity, success and reach of documentaries has nothing to do with the funding of documentaries. In Europe, documentaries have always been funded by public broadcasters."
Fraser draws a sharp distinction between Europe and the US, "where lots of funding has opened up because of places like Netflix and Amazon. You have in America a real sense of a future and possibility because documentaries are popular online."
The BBC is facing cutbacks. BBC4, the home of the Storyville strand, is expected to survive, but the purse strings are continuing to tighten. In Flanders, Flemish broadcaster Lichtpunt has made its final broadcast. Dutch flagship theme channel/web platform NPO/Doc is also shortly to close.
"The human stories, the small stories from one country that will transnationally encourage audiences to think a little bit outside of their backyard, those are disappearing," says Esther van Messel, CEO of sales agent and distributor First Hand Films.
"We're in a really bad situation right now," says Paul Pauwels, director of European Documentary Network. "It has to do with the lack of respect for documentary within the broadcasters — and a lack of knowledge."
The diminishing powers of the commissioning editors — generally the most powerful figures in the documentary world — has been noticed by sales agents and distributors, too. The entire decision-making process is becoming infinitely more laborious and complicated. Those documentary sellers attending events such as Mipcom speak of arranging meetings with junior executives but having to wait a small eternity to reach the real decision-makers.
These are the best of times and the worst of times for documentaries. "Sometimes success can hide a real danger," warns Pauwels. "Talk to the producers and ask how many are making a decent living. The same with the directors. It's a very small group. The films you see in the cinemas are only 2% of all the documentaries being made."