Portraying Infinite Jest author David Foster Wallace in the indie drama, Jason Segel explains how he tuned into the late writer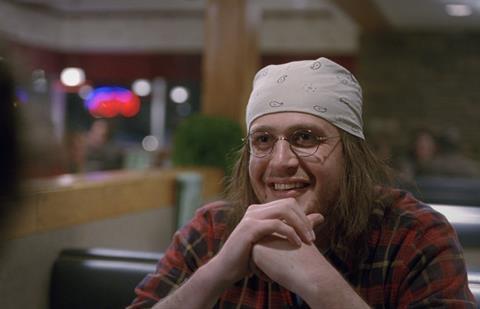 Jason Segel, slouched at a private table at the Four Seasons Hotel in Beverly Hills, is everything you expect until he is not.
The preamble to our interview feels like chatting to an old friend. Segel is animated and exhibits a familiar aw-shucks demeanour after 10 years on the CBS sitcom How I Met Your Mother and starring roles in Hollywood comedy tentpoles like Forgetting Sarah Marshall and The Five-Year Engagement.
His talents have inspired a devoted following and now Segel's performance as the late author David Foster Wallace has lassoed an entirely new crowd of well-wishers, including critics (Segel earned an Indie Spirit best male lead nod this week for playing Wallace, while Donald Margulies received one for screenplay).
Things get interesting when the small talk washes up against the matter at hand, The End Of The Tour. James Ponsoldt's drama is essentially a two-hander that requires Segel to play against type and inhabit the persona of a man frequently labelled a genius.
He was more than equal to the task, holding his own against Jesse Eisenberg, an intellectually demanding on-screen presence, in the part of Rolling Stone reporter David Lipsky.
Donald Margulies' script was inspired by Lipsky's book Although Of Course You End Up Becoming Yourself, an account of the five days he spent with Wallace on a segment of a book tour for the latter's magnum opus, Infinite Jest.
Segel is a writer himself of course – Forgetting Sarah Marshall, The Muppets and a children's book series are among his credits – and found plenty in his subject to absorb him.
"[Wallace] resonates so much because in his writing you feel somebody offering a surrogate experience," says Segel. "There's lots of different types of writing and his is the kind I like best. It says, 'I'm going to be you for the next 300 pages and I will take us through this. I seem to be the one with the vocabulary, so I'll do the talking.'"
To research the role, Segel met people who knew Wallace – who took his own life in 2008 – and studied video footage, including an interview with talk show host Charlie Rose that allowed him to soak up the author's mannerisms and the cadence of his speech.
He read the oeuvre and scaled Infinite Jest, a 1,000-page tome on the perils and pitfalls of pleasure, achievement and entertainment that Segel suggests should take two months to read.
"My opinion is it's designed to make you feel capable so that by the time you've finished that book you're reminded that you're good at something other than sitting and receiving, just numbing out. I felt a real sense of accomplishment when I finished the book, which I have never felt binge-watching a TV show."
Through his research Segel uncovered several truths about Wallace, pegging his performance to one in particular. "[There was] a sort of underlying uncomfortable self-awareness that just didn't seem to go away," he suggests.
Wallace was not a man engorged on his own ego, an aspect to his personality that, in Ponsoldt's film, seems to confound Lipsky and makes an already tasty interaction between two writers even more delicious.
There were no rehearsals before the cameras rolled in Michigan in 2014. "Because of scheduling, the first time we acted against each other was the first day of shooting and it's the scene where he arrives at my [Illinois] house," says Segel. "You could feel us feel each other out. Wallace wrote a lot about tennis. I think of it a lot like a friendly tennis match in that you need each other to keep the [rally] going but the whole time you're thinking, 'When do I choose to level the blow?'

"That's what it felt like," he continues. "We needed each other for the scenes but we also each wanted to win the scenes, character-wise."
Lipsky's spikiness probes Wallace, although it's the latter who is the porcupine, eager to keep the predator away from old reports of heroin use and far more interested in talking about life.
The Wallace-Lipsky tennis match plays out against a backdrop of road trips, fast-food consumption and book signings – with the threat of a few broken rackets never far off.
Segel likens the on-screen encounter to the Frost-Nixon interview. Lipsky behaves himself for several days as he prepares to pounce with questions about Wallace's substance abuse.
"When there's such a bigger story going on emotionally and intellectually," Segel says, "to focus on the more salacious elements probably felt unworthy of some greater existential questions that were going around."
Wallace had hoped for something deeper and probably felt a sense of betrayal when Lipsky finally did pounce, the actor speculates. The pair never spoke again after the interview.
The End Of The Tour touches on Wallace's suicide only at the start of the film, in the form of a news report. Besides that, there is no foreshadowing of an event that would occur 12 years later.
For Segel, the film does well to remain rooted in its time. "It's about a really authentic moment, this moment when everything goes the way you want it to go [rave reviews following the publication of Infinite Jest] and you realise you still feel the same. That's what the movie is about."
Making The End Of The Tour was an important change of pace for Segel.
"I just want to do things that I find really interesting," he says. "There's a line in the movie – 'I'm 34 years old alone in a room with a piece of paper' – that David Foster Wallace says [to Lipsky] and right when I did this movie I'd sort of arrived at this point in my own life.
"I was on a TV show that ended after a decade [playing Marshall Eriksen on How I Met Your Mother] and I had done a big string of comedies that I loved doing.
"But in my early 30s, I found myself feeling some pull between that material and how I was feeling as a man. They were no longer in line. So I had a moment when I had to reevaluate what it is I wanted to do from 33 on, for however long that chapter is."
If the reaction to the film's world premiere in Sundance and a summer box office run through A24 is anything to go by, the next chapter could throw up many more suprises.