The comedy great received the honour in person in London.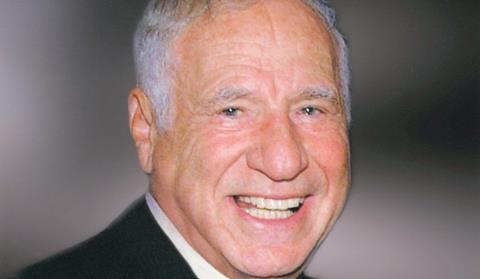 US comedy writer, actor and director Mel Brooks has been awarded the highest honour of the British Film Institute (BFI), the BFI Fellowship, at a private dinner in London tonight (March 20).
Previous recipients include Sir Christopher Lee, Ralph Fiennes, David Cronenberg, Dame Judi Dench, Isabelle Huppert, Tim Burton, Martin Scorsese and Orson Welles. The honour is awarded by the BFI Board of Governors and is presented for outstanding achievement in film and television
Ahead of the presentation, Brooks said: "I am deeply honoured to be the recipient of the BFI Fellowship and to be inducted into such distinguished company.
"When I was informed that I had been chosen, I was surprised and delighted. Not many Americans have been offered this prestigious award…and for good reason."
BFI chair Greg Dyke, who hosted the event, said of Brooks: "His brilliant wit and satire have continued to surprise and delight and, sometimes, astonish, as he delights in flouting convention, taking comedy to areas once held taboo.
"Mel's irrepressible energy and dazzling originality have made the world a much funnier place."
Sir John Hurt, BFI Fellow and star of Brooks' films including The Elephant Man (exec produced by Brooks), History of the World Part 1 and Spaceballs, gave a citation at the event.
Alan Yentob, also a BFI Fellow, interviewed the comedy great at the event in front of guests including Simon Pegg, Mike Leigh, Terry Gilliam, Salman Rushdie, David Walliams, Catherine Tate and BFI CEO Amanda Nevill.
Brooks regaled the small gathering with tales of directing such comedy legends as Zero Mostel, Gene Wilder and Madeline Kahn.
Brooks' comic instincts were honed from an early age in stand-up comedy, then radio and television. He was a writer for radio on Your Show of Shows, and Caesar's Hour for Sid Caesar in the early 1950s.
He created the stylish TV spy satire Get Smart (1965) and also worked on The 2000 Year Old Man (1975).
Brooks' first feature film The Producers (1968) spawned a hit Broadway musical in 2001. His subsequent satires have become cult classics including Blazing Saddles (1974), Silent Movie (1976), High Anxiety (1977), Young Frankenstein (1974), Spaceballs (1987), Robin Hood: Men in Tights (1993) and Dracula: Dead and Loving It (1995).
Aged 88, he still performs as a stand-up comedian will stage a one-man show at London's Prince of Wales Theatre on March 22.
The Producers starts a new UK tour this month.