Open Road / Participant Media's journalism procedural delivered a surprise finale to one of the most closely fought contests in years in Sunday's 88th Academy Awards.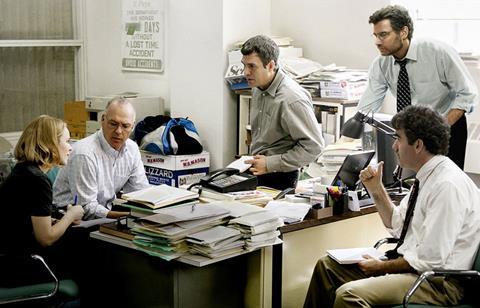 The show itself was good-humoured despite recent outrage over the #OscarsSoWhite controversy in which all 20 acting nominees were, for the second year in a row, white.
Show host Chris Rock mostly navigated the terrain with aplomb, peppering his routine with jokes about inequality in Hollywood. Academy President Cheryl Boone Isaacs, who last month announced changes in the Academy's governance designed to better reflect cultural diversity, spoke of her confidence in shaping a future "in which all of us can be proud."
Spotlight bookended the show, kicking off proceedings with a win for director Tom McCarthy and Josh Singer in the original screenplay category before signing off in dramatic fashion at the Dolby Theater in Hollywood.
The film had established itself as an early season favourite following its world premiere in Venice. Yet as the season wore on Spotlight seemed to be somewhat overshadowed by Paramount's PGA winner The Big Short and Fox/New Regency's survival thriller The Revenant.
However for the first time in nine years the PGA winner did not go on to claim the best picture Oscar and The Big Short had to make do with adapted screenplay honours.
The Revenant began the night with the most nominations – 12 – and left with three. DGA winner Alejandro G Iñarritu collected his second directing Oscar after success with Birdman in 2015, while Emmanuel Lubezki won his third cinematography Oscar in a row after Birdman and Gravity.
Iñarritu's leading man Leonardo DiCaprio finally laid his hands on the statuette after three previous nods in the category.
DiCaprio had been regarded by many insiders as a shoo-in as soon as people set eyes on his performance as a 19th century frontiersman late last year.
There was a similar air of inevitability about the lead actress race, which saw Brie Larson collect her first Academy Award for A24's Room after leading the field since the drama's debut at Telluride late last summer.
Heading into the Oscars, both DiCaprio and Larson had won respective awards from the Screen Actors Guild, BAFTA and the Hollywood Foreign Press Association (Golden Globes) this season, among many others.
The supporting acting contests were harder to call this year. Sylvester Stallone was viewed as the favourite but it was Mark Rylance who took the hours for Bridge Of Spies. Alicia Vikander trumped Carol's Rooney Mara and followed up on her Screen Actors Guild victory with the Academy Award for The Danish Girl.
Warner Bros/Village Roadshow's Mad Max: Fury Road converted ten nominations into six awards in a superb haul that in the early stages of the show made it seem as if George Miller's wildly popular dystopian story would run riot.
The film earned Margaret Sixel an editing Oscar after a three-in-a-row crafts triumph delivered statuettes for costume, make-up and hairstyling, and production design. There was also success in the sound editing and sound mixing categories.
The Ex Machina team of Andrew Whitehurst, Paul Norris, Mark Ardington and Sara Bennett scooped the visual effects award for the A24 sci-fi drama.
Disney/Pixar's Inside Out from Pete Docter delivered yet another animation Oscar for Pixar (and Docter's second after Up), while SPC's mesmerising Hungarian entry Son Of Saul from László Nemes' did what had been expected of it since it dazzled critics in Cannes and won the foreign-language category.
Similarly, A24's Amy from British director Asif Kapadia claimed the documentary prize after leading for much of the season, despite an exceptionally strong field.
Ennio Morricone collected the first best score Oscar of his career for TWC's The Hateful Eight, while Jimmy Napes and Sam Smith earned the best song prize for 'Writing's On The Wall' from Spectre.
Mad Max's strong night ensured that Warner Bros dominated proceedings on six wins, while Fox walked away with three and Paramount, Sony and Disney earned one apiece. A24 enjoyed a great night with three wins and SPC, TWC and Focus Features each earned one.