The Imitation Game brings the story of a little-known hero, who changed the course of the Second World War, to the big screen. Andreas Wiseman talks to the team behind the film.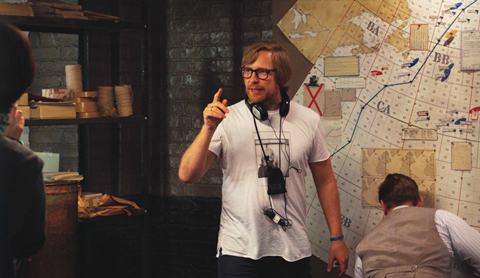 Walking through Potsdamer Platz during Berlin's European Film Market in February 2014, two executives from The Weinstein Company (TWC), deep in conversation, were approached by a journalist.
"'What's hot?," the reporter asked.
"The Imitation Game," replied the pair, with knowing grins.
TWC had just splashed out $7.5m for US rights to the film about brilliant English mathematician and logician, Alan Turing, who helped crack the Enigma code during the Second World War and paved the way for modern computing, before tragically taking his own life in 1954 after being prosecuted for homosexuality.
The EFM deal was the culmination of a long chase for TWC.
"TWC, and Harvey [Weinstein] in particular, had always been interested in acquiring the title," reveals the film's producer Teddy Schwarzman of Black Bear Pictures. "They tried to acquire it at script stage and again during the shoot. We knew there was interest but remained steadfast in wanting to secure a US distributor after the fact. They took a big risk acquiring the rights after 20 minutes of footage in Berlin."
'It's about celebrating someone who is different, which makes for a contemporary and important story. It's about the tragedy of prejudice'

Morten Tyldum, director
It was a promo that might not have even happened if director Morten Tyldum had got his way.
"I find it so painful to see my own film cut down to 18 minutes," reveals the Norwegian director. "I tried to stop that promo… It just proves that directors shouldn't be a part of marketing and selling a film," he says with a laugh.
The truth is that by 2014, The Imitation Game had long-since proved itself a project the industry believed was worth taking a risk on. The script's eye-catching scope and remarkable personal stories had led to a plethora of suitors.
Despite going on to attract some of the industry's biggest names, the project had relatively humble beginnings in the shape of first-time feature producers Nora Grossman and Ido Ostrowsky and first-time screenwriter Graham Moore. The script was among the hottest in Hollywood for at least a year, with Warner Bros initially snapping up rights.
However, the fit wasn't right, as US screenwriter Moore explains. "Ultimately we felt lucky to get away from the higher-budget, studio version of the film. Our intimate character drama didn't seem quite right
at a studio."
All Is Lost producer and financier Schwarzman joined the project in 2012 after having tried to get involved for some time. "Back in fall 2011, I reached out and tried to option it but a lot of companies were doing the same. I tried to stay close to it. Eventually, I got word that it was available again and reached out aggressively. Previously I'd never been able to get in the room with the producers but this time my voice was heard.
"Frankly, they weren't expecting the screenplay to have the reaction it did or have studios interested or huge directors and A-list actors involved," says Schwarzman about his fellow producers' volte-face.
"Then there's the politics of agencies that dictate who gets permission and who doesn't," adds the New York-based financier, who was prepared to stump up the film's entire $15m budget. "I was on the 'doesn't' list, which is understandable given the reception the industry had to the screenplay."
When it came down to it, Schwarzman's vision for the film chimed with that of his fellow producers. "It didn't seem to make sense to me for this project to end up at a major studio, let alone one where they were talking about a US actor playing Alan Turing. It felt like a project that needed to be protected, needed to be made independently, and it was important the material be made in the UK with an all-British cast."

Viking quest
Tyldum, known for his brilliantly slick chase-thriller Headhunters was not an obvious choice to direct the film but the production quickly realised he was the right one.
"We originally set out to find a British director given the fact we had an American writer and three American producers," says Schwarzman. "It just happened that a Norwegian Viking approached us and fell in love with the project and became obsessed and needed to tell it. He became our director within 48 hours despite the fact that objective data was trying to guide us towards a British director."
"It was a pretty well-known project in Hollywood," recalls Tyldum. "My agent said, 'It's probably not what you're looking for,' but it was such a beautiful script and I was blown away by it.
"You always find something that's personal to yourself," he continues. "For me it was a movie about celebrating someone who was different and how important that is, which makes for a very contemporary and important story. It is about the tragedy of prejudice."
Tyldum, feeling something of an outsider in Hollywood, related to the predicament of the often-isolated, ultimately ostracised Turing. "Coming to Hollywood and trying to figure things out meant there was something at that time that made it very relatable."
That said, he hadn't previously heard of the brilliant mathematician and cryptanalyst Turing. "I always loved history and I thought I knew history really well, and that became one of the reasons I was so obsessed with the project. I was shocked how little I knew and how much I wasn't aware of," he admits.
"For people in the UK, Turing is far more well known but not well known enough. His achievements are so staggering; not only for his war-time achievement but at the same time he theorised a computer when he was 23 years old in the 1930s. He theorised the basis of all computer science and the laws
of computing."
'The Weinstein Company took a big risk acquiring the rights after 20 minutes of footage in Berlin'

Teddy Schwarzman, Black Bear Pictures
Fast-rising Benedict Cumberbatch was attached to play Turing soon after Tyldum came on board. While he was not quite a household name at that time, Tyldum and the production had no doubts about the Brit's acting credentials. Keira Knightley also joined the cast as codebreaker Joan Clarke.
StudioCanal were similarly taken with the film and the subject, snapping up UK and French rights during Berlin 2013 (the company might have got to fully finance the film were it not for the producers' experience with Warner Bros).
For StudioCanal UK CEO Danny Perkins, Turing's relatively low profile represented an exciting opportunity. "You could look at the fact Turing wasn't well known in two ways. You can see it as a story the mainstream doesn't care about, or a story they should know about.
"The story is so extraordinary on a personal level and the stakes of what they were doing at Bletchley [Park, where the codebreakers were based] couldn't have been bigger," he continues. "Then there was the whole fact they weren't allowed to talk about it. In today's world where people happily tweet about what they had for lunch, to do something so incredible and then not tell anyone about it or be given any credit for it makes this so remarkable and part of the reason it resonated with us."

Setting the tone
During the shoot, capturing the right mood was among Tyldum's biggest challenges. "Some of the lighter scenes were particularly hard to shoot because you need to get the tone right," he recalls. "Like the scene between Alan and Commander Denniston [played by Charles Dance], which is a six-page, five-minute dialogue between two seated men. You can't chase the humour too much. You're laughing at the awkwardness between Alan Turing and the commander but if you miss, it can go really wrong. You have to be true to the character. I find those scenes are most challenging, even more than the bigger scenes."
The film's score proved another obstacle for production. "One of the biggest struggles was getting our music right in post-production," says Schwarzman. "We were working with another composer before Alexandre Desplat but it became a hard film to find the right sound for. Eventually, we screened the film for Alexandre who loved it but had to pass on it. Then we got a call a week later saying his next film had been pushed by a month and he could give us three weeks to try and score the whole film. He worked 24 hours a day out of Paris then LA and London. It completely changed the feel of the film."

Final sums
The Imitation Game's many layers - it shifts between Turing's childhood, his war-time code-breaking and post-war suicide - are part of its appeal but have also led to marketing challenges, acknowledges Harvey Weinstein.
"There are so many layers here and it would have been very easy to lose focus on one of them in service of another. That issue trickles down to the marketing and positioning of the film - it's a film about a brilliant scientist, a war film, a thriller and a film about civil rights all wrapped in one."
'The tech commmunity has supported this movie in droves. Google created a special trailer with a code-breaking puzzle'

Harvey Weinstein, TWC
In the US, the film has benefited from targeted screenings, including for digital-world tastemakers. "The tech community has come out supporting this movie in droves," adds Weinstein. "We showed the film early on at Charlie Rose's Aspen Ideas Festival and then screened it in Silicon Valley for people like Mark Zuckerberg, Google's Larry Page and Sergey Brin, Facebook's Sheryl Sandberg and on the campuses of Google, Twitter and Yahoo!. The response has been incredible. Google decided to partner with us and created a special trailer with a code-breaking puzzle."
The UK campaign has been similarly well judged, with StudioCanal rolling out regional screenings alongside the glitzy BFI London Film Festival opening night gala. The campaign has caught audience attention with box office standing at an impressive $14.9m (£9.5m) in the UK after three weeks, plus $500,000 from four sites over its opening weekend in the US.
The real story behind the making of The Imitation Game is one of the industry mesmerised by a remarkable man and his work. Audiences are now starting to understand why.