Dir/scr: Leslye Headland. US. 2011. 94mins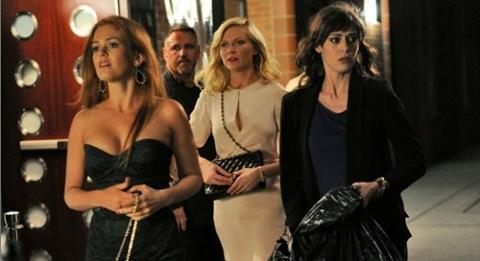 If the jealousy of unmarried women toward a bride fuels comedy, then Bachelorette should be in overdrive. Leslye Headland's directorial debut, adapting her own stage play, runs on nastiness with a dose of romance. It doesn't reinvent anything, but it keeps the bile flowing.
Dunst plays the leader of the trio with the restraint of a woman who has ice in her veins, delivering Headland's lines with a delicate contempt.
Primed by Bridesmaids, the public may be eager for another farce about women behaving badly. This one aims at that demand, and attempts to top Bridesmaids' raunchiness with more fellatio jokes (all told by women) than Deep Throat, an added attraction for the male audience. Headland's breakneck farcical pace and broad physical comedy should help the film travel internationally. So should the star cast.
Bachelorette opens as plump Becky (Rebel Wilson) confides to her pretty platinum-blonde friend Regan (Kirsten Dunst) that she's getting married to a rich young man. Regan, whose absent boyfriend is in medical school, phones the news to slutty coke-addled Gena (Lizzy Caplan) and to pretty petite Katy (Isla Fisher), who sells clothes to customers whom she loathes at Club Monaco (pronounced Club MoNAHco). The trio makes plans for an intoxicated pre-wedding blow-out.
Headland's script, which softens some of her play's darkest tones, is still ballsy. Dunst plays Regan as a fearsome two-faced bully who dabbles at cancer philanthropy with a counterfeit smile - "chemo really sucks when you're twelve." On a flight to New York, Caplan goes through a one-to-ten breakdown of oral sex, addressing a perfect stranger in a speech that seems written to mimic Quentin Tarantino.
After guests arrive and offer boring toasts at a rehearsal dinner, a male stripper deflates the all-girls' after-party by calling Becky "Pig-Face," her old nickname. A madcap speed gathers when the girls find Becky's wedding dress, which fits two of them – at the same time. When the $15,000 gown rips, the race is on to fix it, which takes them to the streets and to a strip club where the groom is celebrating. Headland could have called her movie "The Runaway Dress."
Dunst plays the leader of the trio with the restraint of a woman who has ice in her veins, delivering Headland's lines with a delicate contempt. She is a skilled comedienne. But Caplan gets the best laughs as the trash-mouthed bad girl, willing to do anything for drugs, but still in love with that nerdy guy from high school (Adam Scott). With scheming eyes and telltale vulnerability, she carries Becky's torn white dress like a relay flag, absorbing the grime of late-night New York. When all else fails, she assumes that money or a blowjob will get someone to do things her way.
Men in Headland's farce (James Marsden, Hayes Macarthur, Kyle Bornheimer) are a secondary species, good for only money, sex or marriage, with Marsden a male shadow of Dunst's ice-bitch.
A chilling assessment? Not as chilling as it could be, or as darkly comic, which is this film's problem. If we are witnessing the bachelorette party from hell, Bachelorette comes up short, certainly not the female Hangover that some predicted. Headland sets Becky up as a huge target, but all the over-sized bride suffers is the temporary loss of her wedding dress and the echo of her old nickname. A long night in the streets of New York turns up nothing too sinister or threatening. The mammoth wedding dress is too big to fail. Many real weddings don't turn out to be so successful.
Or so cheap. The no-frills production design of Bachelorette is anything but lavish. What gold-digging bridesmaid would envy that?
Production companies: BCDF Pictures, Gary Sanchez
International Sales: Creative Artists Associates, www.caa.com
Producers: Will Ferrell, Adam McKay, Jessica Elbaum, Claude Dal Farra , Brice Dal Farra, Lauren Munsch
Executive Producers: Chris Henchy, Paul Procop
Cinematography: Doug Emmett
Editor: Jeffrey Wolf
Production Designer: Richard Hoover
Main cast: Kirstin Dunst, Lizzy Caplan, Isla Fisher, Rebel Wilson, James Marsden, Adam Scott, Hayes Macarthur, Kyle Bornheimer