Dir: Kimble Rendall. Australia. 2012. 93mins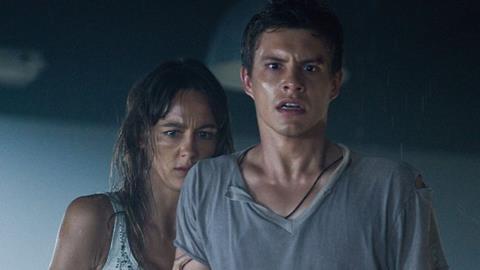 As a bit of old-fashioned B-movie silliness – perfect for late night programming slots – Bait 3D delivers enough gore and good-lookers to keep things interesting, and while it is high on concept and low on scripting, as shark attack films go it at least offers the novel notion that most of the kills take place in a supermarket.
Xavier Samuel has the right balance of youthful charm and steely determination, and his underwater action moments are the best bits in the film.
The film, which screens out of competition at the Venice Film Festival, is familiar in tone (a mismatched group of folk have to fight back when threatened by a couple on rather large Great Whites) and suffers from some rather limp and soggy characterisation, but the 3D is pretty impressive and Xavier Samuel and Sharni Vinson prove they have the youthful energy and star potential to support the film.
As Piranha 3D (and of course Piranha 3DD) has shown, the animal/horror movie works rather well as a 3D offering, and Bait 3D – in truth the title is less than inspiring – should be a solid seller, and if pitched as a tongue-in-cheek horror-actioner could find a welcoming (if perhaps limited) young market.
The film opens on a beautiful Aussie beach where young lifeguard Josh (Samuel) is recovering from a stag-night hangover. He is happily engaged to trim and tanned Tina (Vinson, who had great US success in Step Up 3D), but tragedy hits when her brother – and his best pal and fellow lifeguard – Rory is killed in a shark attack.
A year later and Josh is still struggling to get over Rory's death, and has separated from Tina, who had a new job in Singapore. He is working in a local supermarket, but on one fateful day his world crashes down around him.
Tina arrives back in town, and pops into the supermarket with new 'friend' Steven (Qi Yuwu). She bumps into Josh just as a robbery led by Doyle (Australian Julian McMahon, best known for TV series Nip/Tuck and for playing Doctor Doom in the Fantastic Four films) is happening. To make matters worse, the coastal resort is hit by a freak tsunami, which sees the town devastated and the supermarket and its car park flooded.
As the supermarket survivors climb to the top of the racks above the waterline, the drenched group (which features a whole bunch of clichéd characters such as 'cop', 'security guard', 'checkout girl', 'redneck', and 'store manager') realise a rather large shark is in the water and is on the lookout for a little light lunch.
At the same time, three others are trapped in the submerged car park where they are tormented by yet another hungry shark. Between them the survivors must try and find a way to escape the steadily rising water and the beasties that swim there and find a way out alive.
There are moments when the dialogue is inadvertently funny - plus a sequence where Steven is decked out in a supposedly shark proof outfit largely made up of supermarket baskets is plain hilarious – and there are a few too many unimaginative shots of lingering on faces after inconsequential lines, but when the film works best is when the tension is racked up and when there are bodies flailing around in the water.
Xavier Samuel has the right balance of youthful charm and steely determination, and his underwater action moments are the best bits in the film, and while Sharni Vinson isn't really given enough to do apart from look sad/worried, she has real presence.
Julian McMahon is efficient and impressively solid in the elder statesman role…his robber has a backstory (hinted at rather than fully explained) and offers a confident and gritty backbone to the film. There are few real genre surprises in Bait 3D, but the climax is nicely staged and once audiences realise they shouldn't be taking it overly seriously there is a good deal of B-movie fun to be had.
Production companies: Easternlight, Blackmagic Design, Pictures in Paradise, Story Bridge Films, Screen Australia, Media Development Authority of Singapore, Screen Queensland, Yunnan Film Group, Enlight Pictures
International sales: Darclight, www.arclightfilms.com
Producers: Gary Hamilton, Todd Fellman, Peter Barber
Executive producers: Chris Brown, Ian Maycock, Mike Gabrawy, Ying Ye, Russell Mulcahy
Co-executive producers: Ian Gibbins, Martin Fabinyi, Victor Syrmis
Screenplay: Russell Mulcahy, John Kim
Cinematography: Ross Emery
Editor: Rodrigo Balart
Production designer: Nicholas McCullum
Music: Joe Ng, Alex Oh
Main cast: Xavier Samuel, Julian McMahon, Sharni Vinson, Phoebe Tonkin, Martin Sacks, Alice Parkinson, Dan Wyllie, Alex Russell, Lincoln Lewis, Cariba Heine, Qi Yuwu, Andrian Pang