Dir/scr: Christian Petzold. Germany 2012.105mins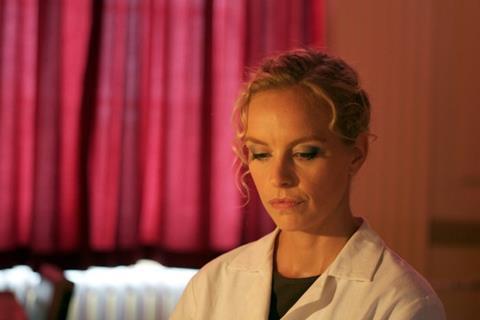 Berlin auteur Christian Petzold offers a dispassionate but involving view of the repressions of the old East Germany from a small-town perspective in Barbara. The drama, which offers a mesmerisingly taut showcase for Petzold's regular muse Nina Hoss, is more narratively conventional than some of his films, and certainly less glacial than, say, his 2007 Berlinale competitor Yella.
Nina Hoss unfolds her character magnificently.
The general interest in this period of modern Germany, boosted internationally by The Lives of Others, will give Barbara upmarket sales appeal, though some will be cautious of the extremely slow-burning drama and emotional restraint. For those who like this sort of hyper-controlled, hugely intelligent work, Barbara will be a must.
The time is 1980, and Barbara Wolff (Hoss) – as the narrative only gradually reveals – is a doctor who has applied for an exit visit from the GDR and as a punishment, has been transferred from her prestigious post in Berlin to a small hospital in the country. At her new workplace, Barbara is viewed with suspicion as a haughty Berliner by her new colleagues, although amiable, approachable young doctor André (Zehrfeld) takes an interest in her, encouraging her not to be so 'separate'. Barbara knows the game too well, though, and is in no illusions about André's role as observer reporting to Stasi officer Klaus Schütz (Bock).
The latter regularly appears at the shoddy apartment she has been allocated, to oversee searches of the premises and, through a female officer, Barbara's body. Ill at ease in her new life, Barbara nevertheless finds some sanity in clandestine trysts with her lover (Waschke) from the West, and hopes of somehow getting out to join him.
A devoted medic, she also applies herself to the care of her patients, in particular Stella (Bauer), a pregnant young woman who has contracted meningitis after her latest escape from a nearby 'work house' – a euphemism, Barbara says, for 'Socialist concentration camp'.
As relations get more complex, oscillating between warm and prickly, between Barbara and André, Barbara is finally forced to make a decision about her own fate – in a nicely underplayed final act that, although it's slowly worked up to, is utterly edge-of-the-seat when we reach it.
This film too could almost have been titled The Lives of Others, since fish-out-of-water Barbara not only has to adjust herself to living like those around her, but also has to play her own hopes for freedom against the needs of the people she cares for. The tightly calibrated action takes place largely in a claustrophobic small town and its windblown rural environs, with Petzold making concentrated dramatic use of Barbara's pokey flat and of the echoing linoed hospital corridors. In visual terms, the film is less glacially stylized than some of Petzold's other films, with cinematographer Hans Fromm using a range of warm colours, browns and intense ambers, that infuse the film with some heat, offsetting the chillier edge of its narrative approach.
Ronald Zehrfeld – looking a ringer for a younger, tubbier Russell Crowe – is an immensely likeable presence, his affability subtly playing up the enigmatic grey areas in André's personality.
And Nina Hoss – here in her fifth lead for Petzold – unfolds her character magnificently, starting off by giving Barbara a frosty mask of total detachment, then slowly thawing her until the contradictions in her compassionate, defiant personality flicker with compelling subtlety between the lines of the action. References to Turgenev and Mark Twain, and a virtuoso deconstruction of a Rembrandt painting make this literate, teasing work one that will surely reward repeated viewings.
Production company: Schramm Film Koerner & Weber
International sales: The Match Factory, info@matchfactory.de
Producers: Florian Koerner von Gustorf, Michael Weber
Cinematography: Hans Fromm
Editor: Bettina Böhler
Production designer: K.D. Gruber
Music: Stefan Will
Main cast: Nina Hoss, Ronald Zehrfeld, Jasna Fritzi Bauer, Mark Waschke, Rainer Bock