Universal's action sci-fi records second consecutive week at number one; Lionsgate's The Hunger Games becomes biggest-grossing film of the year to date.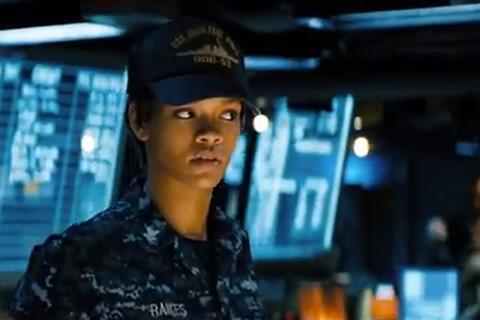 An estimated $2.2m (£1.4m) haul was enough for Battleship to retain top spot at the UK box office for a second consecutive week.
Universal's action sci-fi, loosely based on Hasbro's naval strategy game, fell 38% in its second week and has now amassed $9.9m (£6.2m). Battleship will overtake G.I. Joe's final UK tally of $10.4m (£6.5m) this week, but won't trouble Transformers' $37.8m (£23.5m) total gross.
Peter Berg's blockbuster will face tough competition this week as it aims for a third consecutive week at number one with the arrival of Disney's highly-anticipated superhero team-up Avengers Assemble.
This week's highest new entry belonged to Lionsgate's Salmon Fishing In The Yemen after it took $1.9m (£1.2m) from its 408 sites to chart second. Lasse Hallström's adaptation of Paul Torday's novel achieved the director's second-highest debut in the UK behind Dear John's $3.2m (£2.0m) debut in 2010.
In the coming weeks, Salmon Fishing In The Yemen will hope to hook a similar audience that has propelled Fox's The Best Exotic Marigold Hotel past $30m in the UK.
Still holding firm in its fifth week after climbing a place to third, Lionsgate's The Hunger Games added a further $1.7m (£1.1m) for $34.3m (£21.3m) to date. Gary Ross' adaptation of Suzanne Collins' best-selling novel is now the biggest film of the year so far at the UK box office, toppling Momentum's The Woman In Black.
Dropping a place to fourth was Lionsgate's horror The Cabin In The Woods which scared its way to an additional $1.6m (£1.0m) for $5.6m (£3.5m) after 10 days in play, making it three Lionsgate releases in this week's top four.
Commenting on their success, Zygi Kamasa, CEO of Lionsgate UK, said: "This is a great result and reinforces the audience appeal of Salmon Fishing In The Yemen which is already a best-selling book in the UK.
"We're also incredibly pleased with the continued performance of The Hunger Games and Cabin In The Woods. The strong performance of these Lionsgate titles gives us three films in the top four films in the UK this week, a feat rarely achieved by any distributor major or independent."
Fox's 3D re-release of Titanic rounds off this week's top five after a $1.5m (£0.9m) weekend to stand at a highly impressive $15.9m (£9.9m).
Outside of the top five, Universal's Bob Marley documentary Marley opened superbly with $300,000 (£0.2m) from its 64 sites for the week's second highest average. The distributor reported that its debut was the second highest ever for a documentary, behind Senna which went on a magnificent run last year as it sped its way to $5.1m (£3.2m).
Disney's Avengers Assemble is this week's only saturation release (opens April 26), with eOne's Albert Nobbs and Disney's African Cats both receiving wide releases.
For more of Screen's box office news, analysis and charts, visit our new Box Office section by clicking the icon below.