Dirs: Kim Tae-yong, Tsai Ming-Liang, Gu Changwei, Ann Hui. China. 2102. 90mins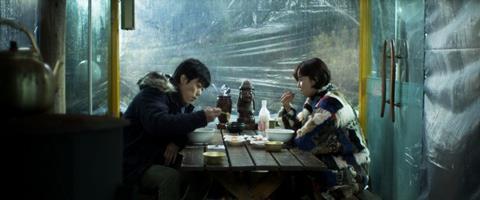 Four 'micro-movies' produced by Youku, China's leading internet television site, make up Beautiful 2012, a coming together for four short films from award-winning Asian directors that have at their core the concept of 'what is beautiful?' while also mulling over life, death and unhappiness.
Walker takes an unusual look at the bustling streets of Hong Kong.
The styles of the four filmmakers are all very different - two are fiction-style and two documentary-style - in tone and content, but all are singular and absorbing pieces. As a film Beautiful 2012, which in China will be seen on Youku's online platform, would be an easy fit in any film festival, while Tsai Ming-Liang's delightfully shot film Walker could also work as a gallery installation.
Beautiful 2012 opens with South Korean director Kim Tae-yong's You Are More Than Beautiful, about a man hiring a young woman named Young-Hee to pretend to be his fiancée to try and show his ill father he is getting married. When his father slips into a coma he pays the woman at the hospital, but she slips into his hospital room and in a charmingly beautiful scene stands and sings a Korean opera song to the father (in a room with five other seriously ill elderly men).
Second up is Tsai Ming-Liang's Walker, which takes an unusual look at the bustling streets of Hong Kong as its features a series of stunningly shot scenes with at the centre a red-robed monk who walks at a snail's pace. With traffic and pedestrians speeding around him the man (head intensely bowed, bare feet and holding a bread roll in one hand and a plastic bag in the other) walks only a step every minute.
Gu Changwei's Long Tou - also shot documentary style - features a series of characters who dwell on the realities of expectation, punctuated by a series of memorable shots ( a cat stalking and jumping onto an air conditioner unit; an elderly man dragging a series plastic bottles; a weight-lifter practicing his moves and a child blowing bubbles) and nice use of music.
The film wraps with Ann Hui's My Way - starring Francis Ng and Jade Leung - about a pre-op transsexual man nervously waiting for his operation. It is a stylishly melancholic film, and defined by the moment when he goes to the hospital for the operation, goes to sleep in the male ward (next to a newspaper reading old man) and wakes as a woman in the female ward…and finally indulging in a smile of relief and happiness.

Production company: Youku Original
Sales contact: Hong Kong International Film Society, savita_lam@hkiff.org.uk
You Are More Than Beautiful
Director: Kim Tae-yong
Producer: Agnes Paik
Screenplay: Kim Tae-yong, Kim Young-hyun
Cinematography: Kwon Sang-jun
Editor: Seong Su-a
Main Cast: Gong Hyo-jin, Hui-soon Park
Walker
Dir/scr:Tsai Ming Liang
Producer: Chen Kuan Ying
Cinematography: Tsai Ming Liang
Editor: Lei Cheng Chin
Main Cast: Lee Kang-Sheng
Long Tou
Dir: Gu Changwei
Producesr: Gu Changwei, Yang Weiwei
Screenplay: Yang Weiwei
Cinematography: Dong Zhenye
Editor: Yang Zhifeng
Music: Chen Weilun
Main Cast: Yan Lianke, Yang Weiwei, Guo Fangfang, Wang Jiajia, Ren Sihong
My Way
Dir: Ann Hui
Producer: Wong Yat Ping
Screenplay: Lou Shiu Wa
Cinematography: Jason Kwan
Editor: Manda Wai
Music: Charlotte Chan
Main Cast: Francis Ng, Jade Leung