Dir. Adam Shankman. US. 2008. 99 mins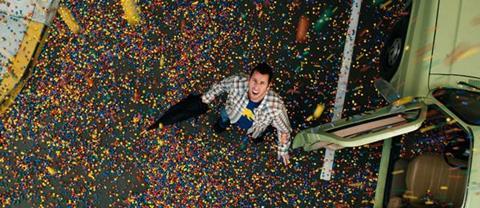 Adam Sandler's first out-and-out family film relies on the same kind of random silliness (minus the raunch, of course) as the comedian-actor's adult comedies, only this time the childish humour is actually aimed at kids. And that could be the limiting factor for Bedtime Stories, because while kids will get a few giggles out of this scattershot Disney fantasy-comedy, adults probably won't find much to laugh at.
Skeeter's interactions with the suitably adorable kids and potential love interest Jill give the film a few mildly affecting moments
Sandler's name and the studio brand could still produce a decent start at the box office when the PG-rated film, directed by Adam Shankman and boasting a strong supporting cast, opens in North America on Christmas Day. Holding on for long in the crowded holiday marketplace seems unlikely, but a strong DVD performance could partially compensate.
Sandler is less of a pull outside the US (though last summer's You Don't Mess With The Zohan did much better than his earlier films), so international openings - a few on or around Christmas Day, others early in the New Year - may produce varied results.
The screenplay, by former DreamWorks business affairs executive Matt Lopez and frequent Sandler collaborator Tim Herlihy (Big Daddy), mixes a slew of familiar family film plot elements with a softened version of the star's familiar screen persona.
Sandler's Skeeter Bronson is the handyman in a swanky Los Angeles hotel originally owned by his kindly father (played in a brief prologue by Jonathan Pryce). While taking care of his niece and nephew for his teacher sister Wendy (Courtney Cox), nice-guy Skeeter starts inventing bedtime stories for the over-protected tots, stories that play on his problems climbing the hotel management career ladder.
When the stories start coming weirdly true, Skeeter's career begins to take off but his relationship with the children and Wendy's friend Jill (Keri Russell, from Waitress) begin to go awry.
Shankman (who directed The Pacifier and Bringing Down The House for Disney, as well the most recent version of Hairspray) is a dab hand at warm family comedy but he can't make much sense out of this grab bag. Besides Skeeter's troubles at work, there's a subplot involving the kids' school, a romance with Jill, some buddy comedy with best pal Mickey (British comedian Russell Brand), and, just for good measure, a CG-enhanced guinea pig.
Scattered through the action are a handful of fantasy sequences - in which the bedtime stories come to life - that have Skeeter and other characters from the main plot re-appearing in slightly modified forms. There's a medieval skit, a Western parody, a mini-epic in ancient Greece/Rome and a sci-fi action episode.
In both the fantasy and real world, Bedtime Stories' comedy is mostly broad and haphazard, more like Sandler's hit-or-miss work on Saturday Night Live than the somewhat character-based humour of his earlier films.
Skeeter's interactions with the suitably adorable kids and potential love interest Jill give the film a few mildly affecting moments.
The large and international supporting cast is used to varying effect. Russell makes a good romantic foil for Skeeter, Brand a less successful comic foil. As Skeeter's workplace nemeses, Guy Pearce and Lucy Lawless overact with abandon. British veteran Richard Griffiths does his comedic villain bit as hotel mogul Barry Nottingham. And Australian up-and-comer Teresa Palmer (2:37) is fun as Paris Hilton-style heiress Violet Nottingham.
To sign up for Screen's weekly Reviews Newsletter with all the week's new releases, international openings and full festival reviews delivered free to your mailbox every Friday, please click
HERE
Production companies
Walt Disney Pictures
Happy Madison
Worldwide distribution
Walt Disney
Producers
Andrew Gunn
Adam Sandler
Jack Giarraputo
Screenplay
Matt Lopez and Tim Herlihy
Cinematography
Michael Barrett
Production design
Linda Descenna
Editors
Tom Costain
Michael Tronick
Main cast
Adam Sandler
Keri Russell
Guy Pearce
Russell Brand
Richard Griffiths
Jonathan Pryce
Courtney Cox
Lucy Lawless
Teresa Palmer