Dir: Paul Weitz. US. 2012. 101mins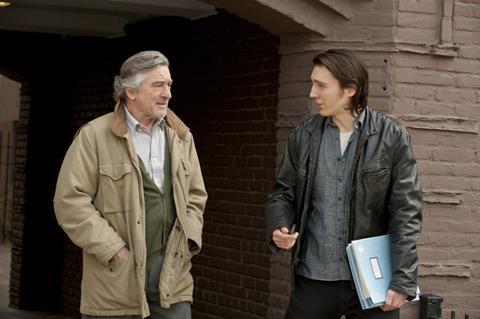 Little Fockers director Paul Weitz and co-star Robert De Niro turn to grittier material with Being Flynn, an estranged father-son tale set against a backdrop of addiction and homelessness. But while De Niro's performance at least superficially recalls those of his heyday, Weitz, who also adapted the material, never finds a convincing tone for what turns out to be an odd mix of drama and wistful humour.
De Niro gives Jonathan an interesting edginess. Dano, though, is disappointingly passive as Nick.
Universal's Focus Features will be faced with a tricky task when it gives the film a limited US release on March 2, though De Niro and the rest of the strong cast should attract some initial interest. Independents that have acquired territorial rights from Focus may find international audiences slightly more willing.
Weitz's script is based on Boston poet Nick Flynn's bracingly bleak 2004 memoir Another Bullshit Night in Suck City. The screen version of Nick, played by There Will Be Blood's Paul Dano, is a young writer who is suddenly reacquainted with his father Jonathan (De Niro) - a hard drinking rogue who claims to be a great though unpublished writer - after an 18 year separation. The father-son relationship develops as Jonathan drifts into homelessness and Nick goes to work in a shelter for the homeless.
The alcohol and drugs that are always at hand for both Nick and Jonathan in the book are pushed more into the background in the film, which focuses instead on the characters' ambivalent relationship and parallel literary ambitions.
The film gives the story more dramatic shape and adds a romantic sub-plot as well as a slightly happier ending. More problematically, Weitz gives the film the sort of tone that worked beautifully in the director's 2002 father-son dramedy About A Boy but feels incongruous in this context. The tone is accentuated by a musical score from British singer-songwriter Badly Drawn Boy, who also scored About a Boy.
De Niro (who produced About A Boy) gives Jonathan an interesting edginess. Dano, though, is disappointingly passive as Nick. The supporting cast includes Julianne Moore as Nick's loving mother and Jonathan's long-suffering wife and Lili Taylor (Nick Flynn's real life wife) as another shelter worker.
Production companies: Depth of Field, Corduroy Films, Tribeca Productions
International sales: Focus Features International, www.focusfeatures.com
Producers: Paul Weitz, Andrew Miano, Michael Costigan
Executive producers: Jane Rosenthal, Meghan Lyvers, Kerry Kohansky, Caroline Baron, Nick Flynn
Screenplay: Paul Weitz, based on the memoir Another Bullshit Night in Suck City by Nick Flynn
Cinematography: Declan Quinn
Production designer: Sarah Knowles
Editor: Joan Sobel
Music: Badly Drawn Boy
Website: www.BeingFlynn.com
Main cast: Robert De Niro, Paul Dano, Olivia Thirlby, Lili Taylor, Wes Studi, Julianne Moore