Dir/scr: Flora Lau. Hong Kong. 2013. 92mins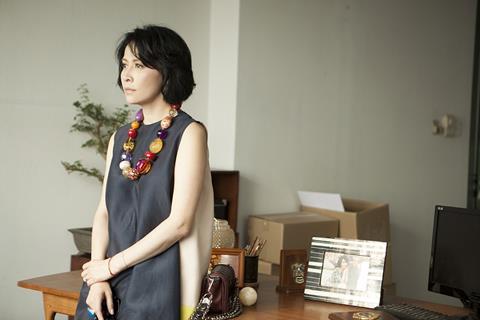 Delicately rendered but thin dramatically, Bends brings together two characters from different economic backgrounds who share emotional similarities that neither one of them realses. The feature directorial debut from Hong Kong filmmaker Flora Lau engages our sympathies even if it never quite evolves beyond a simple, heartfelt message about our dependence on one another, no matter our station in life.
While there isn't much of a narrative here, the two leads are effortless at portraying worried souls who, through no real fault of their own, find themselves in very different binds.
Bends will cater to art houses and film festivals, relying on both positive reviews and audience interest in the movie's exploration of the relationship between Hong Kong and China, which is dramatised through its central characters. The presence of acclaimed cinematographer Christopher Doyle may also help boost the movie's international profile.
Bends stars Carina Lau as Anna, a wealthy housewife living in Hong Kong whose driver Fai (Chen Kun) lives in Shenzhen in China. Anna doesn't know much about Fai's life, consumed as she is with hiding any evidence from the outside world that her absent husband has refused to get in contact and that her finances are quickly evaporating. Meanwhile, Fai has very different problems: His wife (Tian Yuan) is pregnant with their second child, but he can't take her across the border to a good hospital in Hong Kong for the delivery because she's a Chinese citizen.
Working with Doyle (a frequent lenser for Wong Kar-Wai), Lau has crafted a drama that's both visually and emotionally lovely. Incorporating an understated, gentle tone, the filmmaker clearly cares about her two characters, opting not to portray Anna as a spoiled, aloof villain but, rather, as a woman only slowly coming to the realisation that her lavish lifestyle is fleeting. Much of the poignancy in Anna's story comes from her unwillingness to let on to anyone that she's in financial trouble, making it difficult to know if her brave face is a calculated act or a genuine denial of her situation.
As for Fai, he doesn't resent Anna for her wealth — she actually treats him rather well — but his need to arrange for a hospital bed in Hong Kong for his wife requires him to raise money any way that he can, even if it means from underneath his employer's nose. Still, Lau never tips her hand regarding which of these people we should be rooting for. In fact, the film's generosity is such that the writer-director subtly argues that neither of these people needs to suffer — and that perhaps if they helped one another, both would be better off.
The parallel storylines going on in Bends would seem to be a metaphor for Hong Kong's uneasy connection to China, a union fraught with tension. But despite the movie's hopeful tone, the story's underlying problem is that it works more as a metaphor than as a gripping piece of cinema.
There's a drawn-out, repetitious quality to both Fai's and Anna's dilemma, with little surprise or escalation of the stakes. Granted, major plot twists might have clashed with the movie's generally tranquil, melancholy tone, but Bends never quite builds — it simply arrives at its climactic moment, which is the question of whether Fai can sneak his wife into Hong Kong to give birth.
While there isn't much of a narrative here, the two leads are effortless at portraying worried souls who, through no real fault of their own, find themselves in very different binds. Carina Lau is impressively composed despite the growing chaos in Anna's personal life, while Kun radiates a calm assurance no matter how dire Fai's home life becomes.
Through their equally compassionate performances, they underline the film's strongest point: Both of these characters are perhaps too wrapped up in their own woes to recognise and appreciate the agonies experienced by the other person, even though they spend so much time together. That sentiment isn't quite enough to make for an engrossing film experience, but it suggests a filmmaker capable of deep emotional sensitivity.
Production companies: Shadow Puppet Productions Limited, Film Development Fund of Hong Kong, A Priori Image, Bago Pictures, Love Streams Agnes B. Productions, Post Production Office, Tomlinson International Entertainment Distribution LTD, Bends Limited
International sales: Distribution Workshop, dw@distributionworkshop.com
Producers: Nansun Shi, Yu Tsang, Melissa Lee, Ken Hui
Executive producer: Albert Tong
Cinematography: Christopher Doyle
Production designer: Jean Tsoi
Editors: Flora Lau, Alexis Dos Santos, Aq lee
Music: Patrick Jonsson
Main cast: Carina Lau, Chen Kun, Tian Yuan