Dir: Martin Guigui. US. 2012. 98mins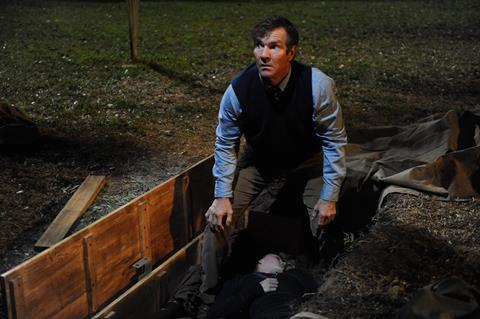 Dennis Quaid's turn as a psycho killer mortician is the only relatively bright spot in Beneath The Darkness, an otherwise generic - and rarely scary - high school horror outing cast with young actors from American teen TV.
The body count is modest, there's no sex and the violence is mild by modern standards.
The low budget indie production, which got a limited US release through Image Entertainment this weekend, won't make much of a mark theatrically before it moves, with slightly better prospects, into the video market. Quaid's presence may produce a little interest internationally.
Quaid's Ely Vaughn is a former high school football star in a small Texas town. Since the death of his wife, Vaughn, whose house doubles as the local funeral home, has become the subject of rumours spread by the town's teens.
When Travis (Tony Oller, from Nickelodeon series Gigantic), Abby (Aimee Teegarden, from Scream 4 and TV's Friday Night Lights) and their friends decide to check the rumours out they discover Vaughn's creepy secret and become the targets of his wrath.
While the cast and the film itself certainly look good, the familiar horror elements never add up to anything. There's no mystery about Vaughn - the opening scene reveals the deranged killer lurking behind his respectable exterior - and a subplot about the death, apparently caused by evil spirits, of Travis' sister does little to explain the teens' motivation.
The body count is modest, there's no sex and the violence is mild by modern standards (though still strong enough to earn an R rating in the US).
Director Martin Guigui (Cattle Call) lets the tone waver from dark to tongue-in-cheek and doesn't create any real suspense until the film's final half hour.
Production companies: Raincreek Productions, Sunset Pictures
US distribution: Image Entertainment
International sales: Sunset Pictures, sunsetpictures.net
Producer: Ronnie Clemmer
Executive producers: Scott Mednick, Bruce Wilkinson
Screenplay: Bruce Wilkinson
Cinematography: Massimo Zeri
Production designer: Christopher Stull
Editor: Eric Potter
Music: Geoff Zanelli
Main cast: Dennis Quaid, Aimee Teegarden, Tony Oller, Stephen Lunsford, Devon Werkheiser