Gun Women: The Patriots scoops top award at NAFF event.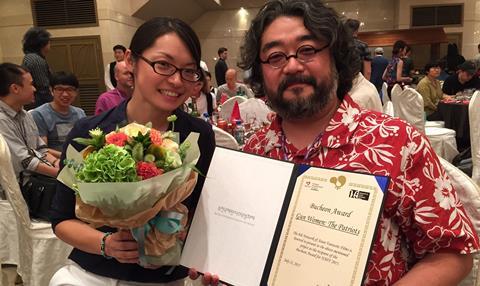 Scroll down for full awards list
The 19th Bucheon International Fantastic Film Festival (BiFan) wrapped its 8th Network of Asian Fantastic Films (NAFF) industry event with the top Bucheon Award - for post-production costs - going to project Gun Women: The Patriots.
A reboot of director Mitsutake Kurando's Gun Woman, which screened in Sitges and Fantasia, the Japan-US co-production features an intelligence agent with gun parts implanted in her body who is on a secret mission to kill the president of Japan.
Kurando (Samurai Avenger: The Blind Wolf) and his producer Yanagimoto Chiaki (Gun Woman) accepted the award which comes with KW15m ($13,000 ) cash prize.
"This award means so much especially coming from such a distinguished jury. Thank you and to Bucheon. I love the people, love the city. Special thanks to Thomas-san for guiding us to the market," said Kurando.
The NAFF 2015 jury, which were unanimous in their decision, consisted of Tom Davia, co-founder and managing partner of CineMaven Media; Roger Garcia, executive director of the Hong Kong International Film Festival Society; Lee Joo Ick, producer and CEO of Boram Entertainment, and producer Mike Macari (The Ring Two).
The NAFF Award with KW10m ($8675) went to Hong Kong project The Hell Bank Heist with director Jimmy Wan Chi Man and producers Pang Ho-Cheung, Tsang Kwok Cheung and Liang Subi attached.
The story is about two underachieving cops who infiltrate a gang of bank robbers who turn out to be on a mission to overthrow the order of both the underworld and the world of the living.
One of NAFF's Project Spotlight 2015: China selections Dead Sign II: The Night Of Ghost Return picked up both the Medialink Capital Award (with $10,000) and the inaugural WTUF Award ($5,000).
Director Yi Jun and producer Cao Chi are working on the project about seven students who accidentally happen into an ancient Taiwanese village and are cursed when they disturb a mourning rite.
Full awards list
Bucheon Award
Gun Women: The Patriots (Japan-US) dir. Mitsutake Kurando, prod. Yanagimoto Chiaki
NAFF Award
The Hell Bank Heist (Hong Kong) dir. Wan Chi Man, prod. Pang Ho-Cheung, Tsang Kwok Cheung, Liang Subi
DHL Award
Silk (Australia) dir. Isabel Peppard, prod. Lizzette Atkins
Medialink Capital Award
Dead Sign II: The Night of Ghost Return (China) dir. Yi Jun, prod. Cao Chi
TOKYOPOP Asian Film Award
Ricky Boy The Wonder Boy (Philippines) dir. Victor Louie A. Villanueva, prod. Daphne O. Chiu
C2M Award
The Double Life of Myself (China) dir. Chan Nga Lei, prod. Lana Peng
WTUF Award
Dead Sign II: The Night of Ghost Return (China) dir. Yi Jun, prod. Cao Chi
MONEFF Award
The Tag-Along (Taiwan) dir. Wei-Hao Cheng, prod. Han-Hsien Tseng
The Color Award
The Four (Korea) dir. Lee Seong Tae, prod. Kim Sang Su
Wave Lab
Never Die Again (Korea) dir. and prod. Park Jung Bum