Dir/scr: Fredrik Gertten. Sweden. 2011. 87mins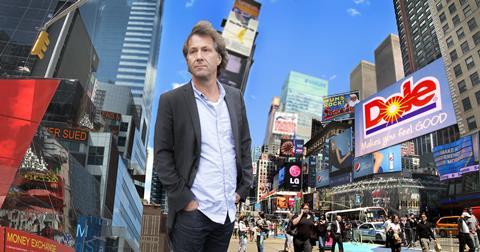 Fredrik Gertten's sobering and insightful Big Boys Gone Bananas!*should be compulsory viewing for any wannabe documentary filmmaker embarking on their investigative opus without a fear in the world. His film follows the repercussions to his 2009 film BANANAS!* that saw him sued, bullied and subjected to PR spin by corporate giant the Dole Food Company.
Big Boys Gone Bananas!* makes for gripping viewing and you can only admire the stance taken by Gertten and Jangard as they refuse to bend to pressure.
The film makes for absorbing viewing – and could almost be a dramatic fiction film, perhaps with Russell Crowe cast as the crusading Swedish filmmaker – and should be a must at film festivals around the world. It had its world premiere at documentary film festival IDFA in Amsterdam.
In BANANAS!* Gertten recounted the lawsuit that 12 Nicaraguan plantation workers brought against fruit giant, the Dole Food Company that subsequently saw the company found guilty in a Los Angeles court. Gertten's film was selected for the competition section of the Los Angeles Film Festival, but in May 2009, just prior to the festival, Gertten received a package of legal documents from Dole containing a request to 'cease and desist', otherwise he would be sued.
Dole claimed that the original case was based on fraud and workers lies and despite the fact that they hadn't seen the film wanted it to be withdrawn and edited. Pressure – both in the media and directly to sponsors and supporters – was put on both Gertten and the festival, and eventually the film was withdrawn from competition and screened in an out of competition slot with the event preceded by a statement from Dole read out.
The film tells the story of how Gertten – and his producer Margarete Jangard – tackle the unrelenting pressure from Dole, with their story intercut with interviews with journalists, authors and experts on spin - with one stating bluntly "you are naive if you take a pop at a big multi-national and not think they'll come at you".
But despite the pressure and press campaigns in the US and in the international media, it is in Sweden where the story really comes to a head. A local blogger who was following the case pointed out to the manager of his local MAX hamburger outlet that Dole supplied fruit salads for the chain, and were the same company pressuring local filmmaker Gertten.
Then – in the sort of thing that could perhaps only happen in Sweden and might be chopped out of any feature film adaptation – Gertten bumps into Social Democrat MP Luciano Astudillo at his local cheese shop. Astudillo asks if he can help, and they agree to set up a screening of BANANAS!* in Parliament.
Swedish MPs come out in support of the film and – more importantly – Gertten's right to get it screened, with further pressure coming from the country's supermarket chains which demand a response from Dole. Then on October 15, 2009, two hours before a meeting between Parliament and the supermarket bosses Dole withdraws the lawsuit. Gertten's lawyer pursues legal action against Dole and on October 22, 2009, wins the case for defamation against Dole and is awarded £200,000 in attorney fees.
Despite its rather lumbering title, Big Boys Gone Bananas!* makes for gripping viewing and you can only admire the stance taken by Gertten and Jangard as they refuse to bend to pressure, despite the fears that they may lose everything. Gertten is a genial but determined presence and his battle is admirable and inspiring. But without that meeting at his local cheese shop who knows how the story night have turned out…
Production companies: WG Film, VPRO, SVT, Film I Skane, Swedish Film Institute
Producer: Margarete Jangard
Executive producer: Fredrik Gertten
Cinematography: Joseph Aguirre, Kiki Allgeier, Stefan Berg, Malin Korkeasalo, Jose Gabriel Noguez
Editors: Banjamin Binderup, Jesper Osmund
Website: www.bigboysgonebananas.com
Music: Conny Malmqvist, Dan ' Gisen' Malmqvist