Dir: Michael Polish. US. 2012. 74mins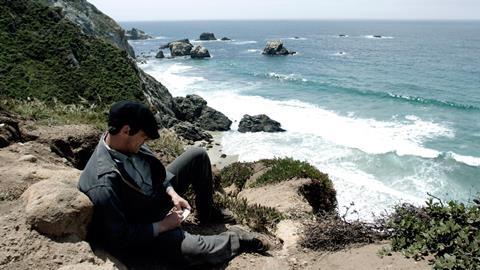 Big Sur achieves one of the trickier challenges in cinema, dramatising the inner demons of a character awash in melancholy and addiction. This unapologetic mood piece from writer-director Michael Polish, based on the novel by Jack Kerouac, does a fine job of making inertia and self-doubt palpable while keeping pretentiousness and self-indulgence at bay. Aided by a brief running time and sympathetic performances, Big Sur means to be an elegy for Kerouac's Beat Generation, and as such it's a film suffused with sadness.
Polish doesn't overtax the audience's patience. If Big Sur ultimately is nothing more than a fragile, gorgeous-looking flicker of a film, it burns brightly for its moment.
Kerouac has been a frequent figure at the movies of late thanks to the Allen Ginsberg biopic Howl and the recent adaptation of On The Road. (If that wasn't enough, he's also a character in the forthcoming Kill Your Darlings, which like Big Sur premiered at this year's Sundance Film Festival.) Big Sur is simply too small and idiosyncratic to attract a large audience, but the author's fans should be suitably intrigued by this impressionistic portrait.
Jean-Marc Barr plays Kerouac, who in the early '60s decided to spend some time in Big Sur, California, hoping to reawaken his muse. Hailed as a leader in a creative renaissance that spoke out against American conformity in the 1950s, Kerouac now simply feels adrift, pursuing a romantic fling with Billie (Kate Bosworth), the mistress of his dear friend Neal Cassady (Josh Lucas), and diving deeper and deeper into alcoholism.
Polish (Northfork, Twin Falls Idaho) is a filmmaker interested in concocting ethereal, dreamlike worlds, and with the help of his long-time cinematographer M. David Mullen, Big Sur mirrors the boozy melancholy eating away at its protagonist. With a narrative powered largely by Kerouac's voiceover reading of the book he's working on, the movie is less a character piece than it is episodic glimpses inside debilitating ennui and hopelessness.
The risk, of course, is that such a strategy will result in a lethargic, navel-gazing study of morose self-pity, but Polish largely overcomes such concerns by utilizing a spare shooting style that in its simplicity underscores the depth of Kerouac's despair. Mullen gives the Big Sur locations a quiet grandeur, the Pacific Ocean constantly in the frame, suggesting a place at the end of the world. And Polish utilizes stirringly emotive instrumental tracks from Bryce and Aaron Dessner, leaders of the Brooklyn-based indie rock band the National, to further weave a spell of eternal sadness.
Perhaps not surprisingly in such a cinematic environment, the characters aren't deeply developed or even investigated. Nonetheless, there is a constant sense that Kerouac and his friends' glory days are behind them, their fading hopes and dreams drifting away. With that in mind, Bosworth and Lucas (as well as Radha Mitchell as Cassady's wife Carolyn) inhabit their roles as if they were ghosts. As for Barr, he doesn't try to impersonate Kerouac as much as he embodies the film's blue mood, though still hinting at the creative fire burning somewhere within the author.
To be sure, the elegant sigh of resignation hovering over Big Sur will not be to all tastes. But at only 74 minutes, including credits, Polish doesn't overtax the audience's patience. If Big Sur ultimately is nothing more than a fragile, gorgeous-looking flicker of a film, it burns brightly for its moment.
Production company: 3311 Productions
International sales: William Morris Endeavor, www.wma.com
Producers: Orian Williams, Ross Jacobson, Adam Kassen, Michael Polish
Executive producers: Jim Sampas, Mark Roberts, Eddie Vaisman, Donal Logue
Screenplay: Michael Polish, based on the novel Big Sur by Jack Kerouac
Cinematography: M. David Mullen
Production designer: Max Biscoe
Editors: Robert Frazen, Geraud Brisson
Music: Bryce and Aaron Dessner
Main cast: Jean-Marc Barr, Kate Bosworth, Josh Lucas, Radha Mitchell, Anthony Edwards, Balthazar Getty, Patrick Fischler, Stana Katic, Henry Thomas, John Robinson