Dir/scr: Miaoyan Zhang. China. 2011. 123mins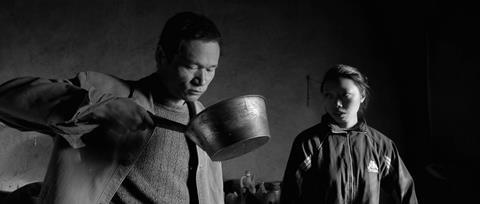 Miaoyan Zhang's beautifully shot bitter drama Black Blood is a simple, but grippingly absorbing, story of an impoverished Chinese family in remote northwestern China who resort to selling their blood as the only way to try and survive. The film, which premiered at the Rotterdam Film Festival, is Zhang's second film and received post-production support from the festival's Hubert Bals Fund.
The bleakness of the harsh rural landscape is impressively captured.
Shot in widescreen black-and-white – apart from two atmospheric colour sequences of factories billowing out smoke and fumes – the film is structured in a simple linear fashion, but Zhang makes great use of his set-ups, allowing the strange eroded landscape and the dusty village locations to tell the story as much as his protagonists.
Couple Xiaolin (Danhui Mao) and his wife Xiaojuan (Mengjuan Liu) are struggling to make ends meet, with water in short supply and needing money to pay for their daughter's tuition. Xiaolin decides to sell his blood to try and raise funds, and before long both husband and wife are selling blood.
They decide to start a blood collecting business – named Ali-Baba – and before long he is wearing a suit and making the grand gesture of buying a toilet for the house. But when both become infected with HIV their dreams crumble around them, with Xiaolin eventually even going from door to door to try and get their daughter adopted.
The bleakness of the harsh rural landscape is impressively captured, as is the harshness of the life the family lead. The actual blood-giving is never explicitly captured on film – instead Xiaolin simply wanders towards a road where he patiently waits for a man driving a tractor to arrive. It is here – in the middle of nowhere and with no medical backup – the blood is bought and sold.
Production companies: Rice Production, Arizona Films
Sales contact: Arizona Films, guillaume@arizonafilms.net
Producers: Miaoyan Zhang, Guillaume de Seille
Associate producers: Remi Roy, Benedicte Thomas
Associate screenplay: Zhihong Yang
Cinematography/editor: Miaoyan Zhang
Music: Andy F Butler, Annette Bauer
Main cast: Danhui Mao, Mengjuan Liu, Yingyang